Sniper
Last Updated: September 26, 2022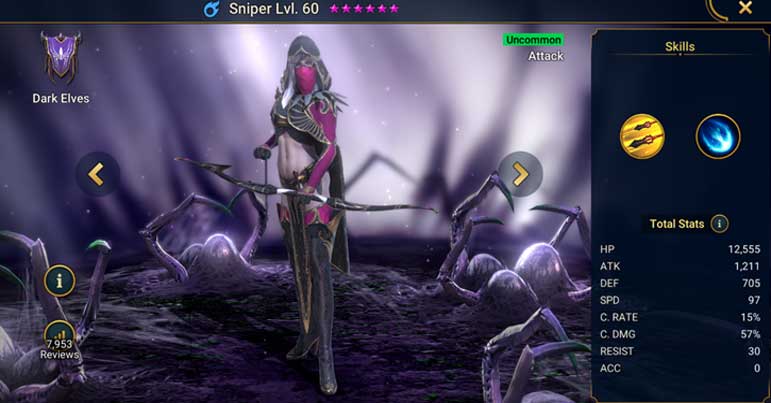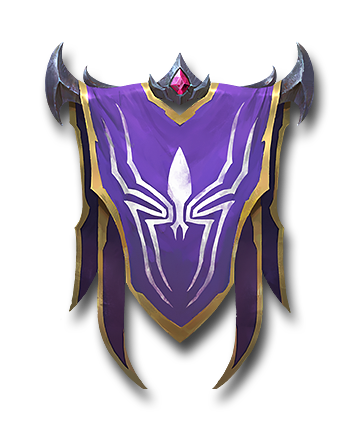 Champion Overall Rating:

2
Key Areas
| | |
| --- | --- |
| Arena Def: | 2 |
| Arena Atk: | 4 |
| Clan Boss: | 4 |
| Hydra: | 2 |
| Doom Tower: | 2 |
Dungeons
| | |
| --- | --- |
| Spider: | 4 |
| Fire Knight: | 5 |
| Dragon: | 4 |
| Ice Golem: | 4 |
| Iron Twins: | 1 |
| | |
| --- | --- |
| Magma Dragon: | 4 |
| Frost Spider: | 6 |
| Nether Spider: | 6 |
| Scarab King: | 1 |
| | |
| --- | --- |
| Eternal Dragon: | 4 |
| Celestial Griffin: | 4 |
| Dreadhorn: | 4 |
| Dark Fae: | 4 |
Sniper
Hiding in the shadows the scarlet assassins line up their bows to let loose into their enemies.
Sniper is an Uncommon champion from the Dark Elves faction and one of the first champions you will get from a mystery shard. She will stay with you for the early game as a decent damage dealer. She is Attack based so build her with Crit, Attack and speed to get some early game damage away. It's unlikely you will take her past level 50 as you will just get better champions and your starter hero rare champion will be better to take to 6 star. As you progress  you'll use her for food but until then use her because she can pack a punch!
Double Shot
Attacks 1 enemy 2 times. Has an extra 15% chance of inflicting a critical hit. Fills this Champion's Turn Meter by 15% on each critical hit.
Damage Rating
Multiplier: 2.2ATKOverall Grading*: Godlike
Rain of Arrows - 4 Turn Cooldown
Attacks all enemies 2 times. Has a 10% chance of placing a 15% Decrease SPD debuff for 1 turn.
Damage Rating
Multiplier: 1.9ATKOverall Grading*: Strong
Offense
Defense
Support
This champion is not recommended for use in PvP
Recommended PVE Artifact Sets
Recommended PVP Artifact Sets