War Mother
Last Updated: April 9, 2022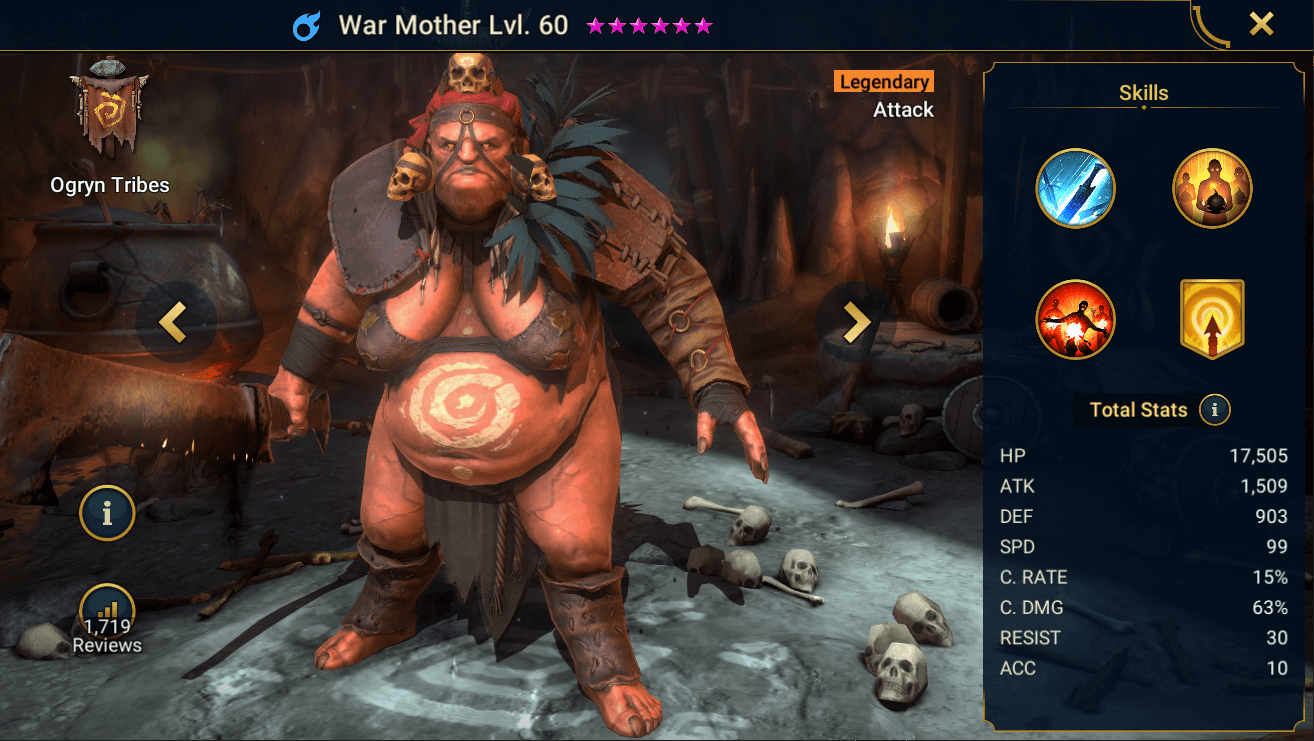 Champion Overall Rating:

3
Arena God
Key Areas
| | |
| --- | --- |
| Arena Def: | 9 |
| Arena Atk: | 9 |
| Clan Boss: | 7 |
| Hydra: | 7 |
| Doom Tower: | 8 |
Dungeons
| | |
| --- | --- |
| Spider: | 4 |
| Fire Knight: | 4 |
| Dragon: | 4 |
| Ice Golem: | 4 |
| Iron Twins: | 2 |
| | |
| --- | --- |
| Magma Dragon: | 2 |
| Frost Spider: | 4 |
| Nether Spider: | 2 |
| Scarab King: | 2 |
| | |
| --- | --- |
| Eternal Dragon: | 4 |
| Celestial Griffin: | 4 |
| Dreadhorn: | 6 |
| Dark Fae: | 5 |
War Mother
Lovingly adored by many a raider, Warmother is actually legitimately a strong damage dealing champion. If bombs had more Utility in the game, War Mother would be S tier for that role with bomb multipliers significantly higher than the average bomb champion.
Bombs aside, War Mother's aoe damage capability is actually surprisingly strong making her one of the hardest hitting champions in the game. She also has a 100% chance to place Decrease ATK on her a1 without books, which is rare for any champion let alone a legendary.
In Patch 4.70, she received a number of quality of life changes. Her base stats moved her further towards damage in exchange for survivability, her bomb multipliers were further increased (although this doesn't mean bombs are anymore useful) and adjusted the duration. All in all decent changes especially the Base ATK increase.
Cry Havoc
Attacks 1 enemy 2 times. Each hit places a 50% [Decrease ATK] debuff for 2 turns.
Level 2: Damage +5%
Level 3: Damage +10%
Damage Rating
Multiplier: 1.9*ATKOverall Grading*: Strong
Special Brew - 4 Turn Cooldown
Attacks all enemies. Places two Bomb debuffs that detonate after 2 turns. Bomb damage increases by 100% against bosses.
Level 2: Damage +5%
Level 3: Damage +5%
Level 4: Damage +10%
Level 4: Cooldown -1
Damage Rating
Multiplier: 4.25*ATK (Bombs: 5.5*ATK Heroes 8.5*ATK Bosses)Overall Grading*: Godlike
Mother's Touch - 5 Turn Cooldown
Attacks all enemies. Instantly detonates all Bomb debuffs if this Champion is under an [Increase ATK] buff.
Level 2: Damage +5%
Level 3: Damage +10%
Level 4: Cooldown -1
Damage Rating
Multiplier: 4.5*ATKOverall Grading*: Godlike
Aura
Increases Ally ACC in Faction Crypts by 65
Offense
Defense
Support
Offense
Defense