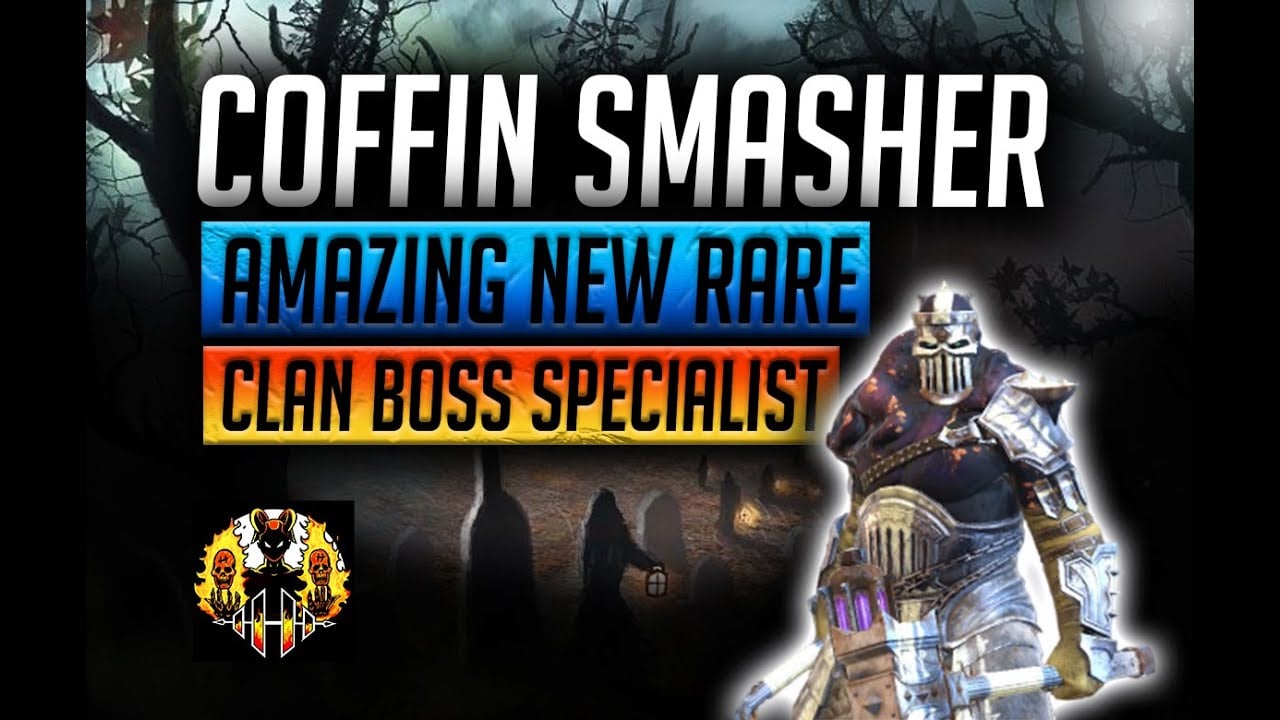 Why Coffin Smasher is a great champion in Raid Shadow Legends
[mepr-hide rules="18139"]
[/mepr-hide]

Coffin Smasher is an incredibly underappreciated Champion in Raid Shadow Legends, especially when it comes to newer players and most notably, free-to-play players.
With Coffin Smasher only being a rare Champion, he's typically quite easy to pick up as you're playing the game and progressing through, especially as you look towards building a proper Clan Boss Team – as he provides a vital job, and is in some cases more effective than some Epic and even Legendary Champions, as well as being significantly cheaper to build!
But Clan Boss isn't the only place where you can utilize Coffin Smasher, and we're going to dive a little deeper into that today.

Coffin Smasher Skills
Mallet Crescendo [HP] Attacks 1 enemy 3 times. Each hit has a 15% chance of placing a 50% Decrease ATK debuff for 2 turns.
Level 2: Damage +5%
Level 3: Buff/Debuff Chance +5%
Level 4: Damage +5%
Level 5: Buff/Debuff Chance +5%
Level 6: Damage +5%
Level 7: Buff/Debuff Chance +5%
Tombfire [HP] – 4 Turn Cooldown
Attacks 1 enemy. Has a 50% chance of placing a HP Burn debuff for 2 turns.
Level 2: Damage +5%
Level 3: Buff/Debuff Chance +5%
Level 4: Damage +5%
Level 5: Buff/Debuff Chance +5%
Level 6: Damage +5%
Level 7: Buff/Debuff Chance +5%
Level 8: Damage +10%
Level 9: Buff/Debuff Chance +10%
Gloom Mist (Passive)
Decreases the damage enemies inflict with AoE attacks by 5%

Why is this kit so strong?
Well, one of the first, fundamental parts of building a Clan Boss team is ensuring that you are able to keep full uptime of [Decrease ATK] on the Clan Boss, to minimize the amount of damage you'll be receiving, allowing you to survive longer (Of course, this is only relevant for Non-unkillable teams).
But not only does Coffin Smasher bring a very reliable A1 [Decrease ATK] but he also negates 5% of the Clan Boss AOE hits, which may seem small, but every little helps whilst building your team!
Coffin Smasher also brings a [HP Burn] debuff for the Clan Boss, and other areas of the game which can aid your damage significantly!
The final point about Coffin Smasher that makes him incredibly viable, is the fact that he is HP Based, meaning keeping him alive will be a much easier task than a lot of alternatives.

Where can you use Coffin Smasher outside of Clan Boss?
There are a few notable areas of the game where Coffin Smasher shines, although the leading spot is definitely Clan Boss, for accounts that are short on options you may rely on Coffin Smasher for the Frost Spider in Doom Tower, as his A2 [HP Burn] will allow you to actually kill the boss, whilst also bringing the damage mitigation for your team to allow you to stay alive long enough for the boss to burn to death.
The other great area for Coffin Smasher is Fire Knight, with his Triple-hit A1 ability, he is very handy for helping to break the shield in the early stages of Fire Knight, pairing him with Champions such as Armiger will allow you to get a lot of uptime on the boss being susceptible to damage.

How to build Coffin Smasher
Building Coffin Smasher is fairly straightforward when it comes to Clan Boss, especially in the early game, and you can do so by following a few simple steps.
The required amount of ACC
Above the minimum Speed of your Clan Boss Difficulty.
HP/Def to keep your Coffin Smasher alive
Life Steal Gear
Having Giant Slayer T6 Mastery on your Coffin Smasher will really help keep him alive, paired with Life Steal gear, he'll be topping himself up frequently due to his triple-hit A1 ability.
The other mastery that you'll want to make sure you're picking up, is Master Hexer, as the chance to extend [Decrease ATK] and [HP Burn] will help increase your uptime, and reduce the risk of taking an AOE hit without [Decrease ATK] on the boss.
If you are gearing Coffin Smasher for other areas of the game, such as Doom Tower bosses or Fire Knight, it may be wise to put your Coffin Smasher into sets such as Regeneration, as him staying alive is your biggest priority, and you will not get anywhere near as much healing from Life Steal in these areas of the game, as Giant Slayer procs will not do the same amount of damage.
Of course, you will once again need to ensure you follow the steps above for stats, but changing the set priority, for those who are not able to yet farm Fire Knight to pick up a suitable Regeneration set, Life Steal can work, but may be less effective the later into the game that you get.

Do you/have you used Coffin Smasher? If so, let us know where in the comments!


[mepr-hide rules="18139"]
[/mepr-hide]