Coldheart
Last Updated: April 9, 2022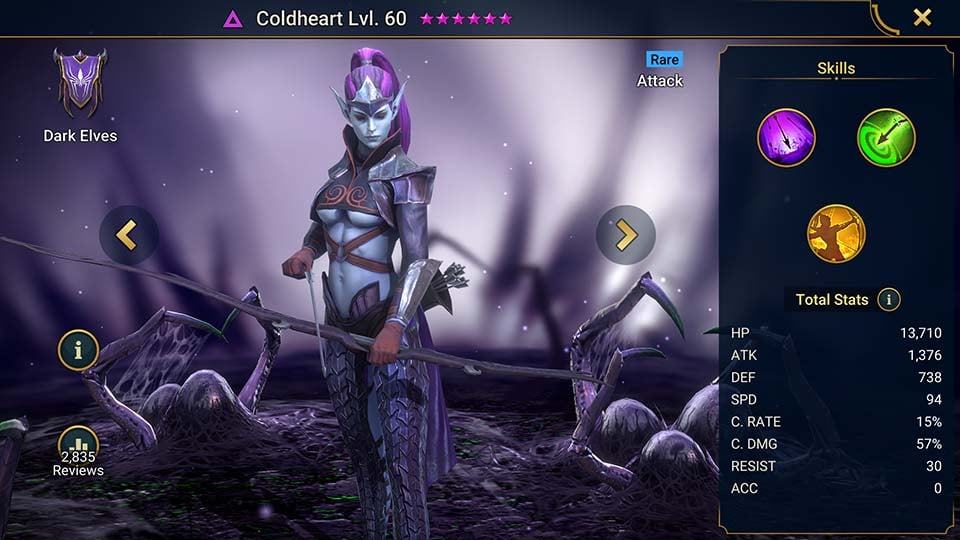 Champion Overall Rating:

4
Spider & Fire Knight GODDESS
Key Areas
| | |
| --- | --- |
| Arena Def: | 6 |
| Arena Atk: | 6 |
| Clan Boss: | 6 |
| Hydra: | 6 |
| Doom Tower: | 6 |
Dungeons
| | |
| --- | --- |
| Spider: | 10 |
| Fire Knight: | 10 |
| Dragon: | 8 |
| Ice Golem: | 8 |
| Iron Twins: | 8 |
Faction Wars
Damage:
Turn Meter Control:
| | |
| --- | --- |
| Magma Dragon: | 7 |
| Frost Spider: | 8 |
| Nether Spider: | 4 |
| Scarab King: | 10 |
| | |
| --- | --- |
| Eternal Dragon: | 8 |
| Celestial Griffin: | 4 |
| Dreadhorn: | 2 |
| Dark Fae: | 8 |
Coldheart
One of the Elite Elven guard, Coldheart knows no fear and has guarded the Elven Queen since she was able to draw a bow. She has near godlike senses able to see over great distances and hear a pin drop. When forced into battle she has explosive power!
Coldheart is a Rare from the Dark Elves faction. She is the best Rare champion bar none for end game dungeon content! Coldheart has an exceptional ability on her A3 called Heartseeker that decreases the enemies turn meter by 100% and hits REALLY HARD! This ability is fantastic for Spider, Dark FAE, Iron Twins and Fire Knight to name a few areas (but honestly in most content in the game. She also has a 4 hit A1 skill which places 100% Heal Reduction when she is ascended.
When building your Coldheart, ensure she has enough Accuracy to land her turn meter reduction ability (multiply the level of Dungeon you are facing x10). You only need 70% crit rate in her build so try to maximise crit damage. Also ensure she is wearing an HP% chest and has more HP than your tank so that she isn't immediately targeted!
Overall an exceptional Rare champion and a gamechanger! Everyone who owns Coldheart will build her and enjoy the big numbers and use her right through to the end game!
Flurry of Arrows [ATK]
Attacks 4 times at random. Each hit has a 25% chance of placing a 100% Heal Reduction debuff for 2 turns.
Level 2: Damage +5%
Level 3: Buff/Debuff Chance +5%
Level 4: Buff/Debuff Chance +5%
Level 5: Damage +10%
Damage Rating
Multiplier: 0.7*ATKOverall Grading*: Weak
Art of Pain [ATK] - 4 Turn Cooldown
Attacks all enemies. Has a 30% chance of placing a 50% Decrease ACC debuff for 1 turn. Places a 5% Poison debuff for 2 turns if the target is under a Heal Reduction debuff.
Level 2: Damage +5%
Level 3: Damage +5%
Level 4: Buff/Debuff Chance +5%
Level 5: Cooldown -1
Damage Rating
Multiplier: 3.3*ATKOverall Grading*: Average
Heartseeker [Enemy MAX HP] [ATK] - 5 Turn Cooldown
Attacks 1 enemy. Decreases the target's Turn Meter by 100%. Has an extra 30% chance of inflicting a critical hit. Damage increases according to enemy MAX HP.
Level 2: Damage +5%
Level 3: Damage +10%
Level 4: Damage +15%
Level 5: Cooldown -1
Damage Rating
Multiplier: TRG_HP*0.1+ATK*1.7Overall Grading*: Godlike
Offense
Defense
Support
Offense
Defense