Fayne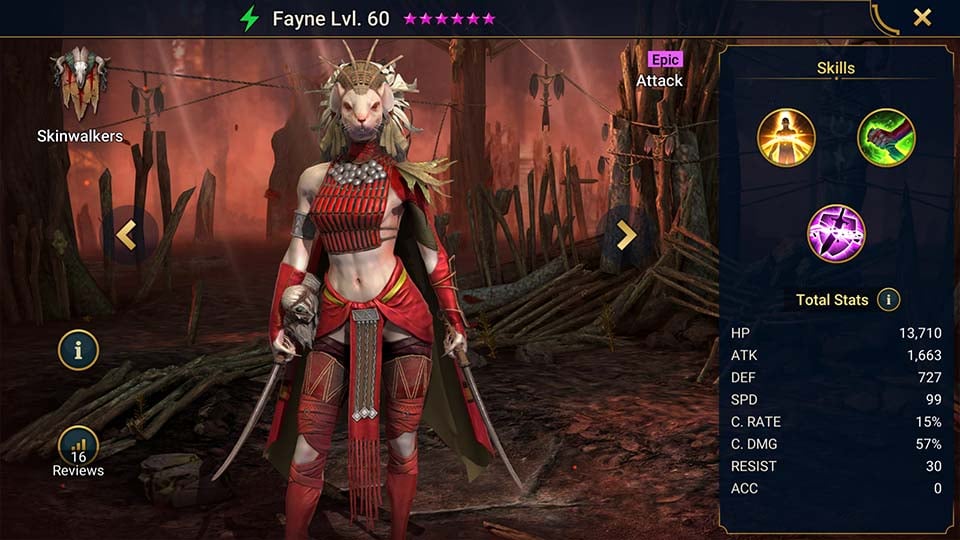 Champion Overall Rating:

3.5
Clan Boss Unkillable GOD
Key Areas
| | |
| --- | --- |
| Arena Def: | 4 |
| Arena Atk: | 4 |
| Clan Boss: | 10 |
| Faction Wars: | 10 |
Dungeons
| | |
| --- | --- |
| Spider: | 9 |
| Fire Knight: | 8 |
| Dragon: | 6 |
| Ice Golem: | 4 |
Doom Tower
| | |
| --- | --- |
| Magma Dragon: | 4 |
| Frost Spider: | 7 |
| Nether Spider: | 6 |
| Scarab King: | 5 |
Fayne
Fayne is a Spirit affinity epic from the Skinwalker faction. Fayne was added as an epic required for a legendary fusion Vergumkaar and many saw her as a better champion than the legendary.
The best use for Fayne is in unkillable Clan Boss teams where her low defence numbers do not impact her damage output. In a standard Clan Boss setup, she is hard to keep alive for an extended fight.
Fayne can also be a great debuffer for Spider provided the backup team have enough damage. Don't ascend if you want to use as a spider debuffer as you do not want to activate her decrease attack ability.
Exotic Blades [ATK]
Attacks 1 enemy 2 times. Each hit has a 35% chance of stealing 5% of the target's current Turn Meter.
Level 2: Damage +5%
Level 3: Damage +10%
Level 4: Damage +10%
Level 5: Buff/Debuff Chance +5%
Level 6: Buff/Debuff Chance +10%
Damage Multiplier: 1.55 ATK
Flower's Tears [ATK]
Cooldown: 4 turns
Attacks 1 enemy. Has a 75% chance of placing two 5% Poison debuffs and a 50% Decrease ATK debuff for 2 turns.
Level 2: Damage +10%
Level 3: Damage +10%
Level 4: Buff/Debuff Chance +10%
Level 5: Buff/Debuff Chance +15%
Level 6: Cooldown -1
Damage Multiplier: 4.8 ATK
Flowing Style [ATK]
Cooldown: 5 turns
Attacks 1 enemy 3 times. The first hit has a 75% chance of placing a 60% Decrease DEF debuff for 3 turns. The second hit has a 75% chance of placing a 25% Weaken debuff for 3 turns. The third hit heals this Champion by 4% of her MAX HP for every debuff on the target.
Level 2: Damage +5%
Level 3: Damage +5%
Level 4: Buff/Debuff Chance +10%
Level 5: Buff/Debuff Chance +15%
Level 6: Cooldown -1
Damage Multiplier: 1.8 ATK
ACC, SPD, HP%, C.RATE, C.DMG, DEF%
Recommended PVE Artifact Sets
Lifesteal, Speed, Accuracy, Perception
Recommended PVP Artifact Sets