Nogdar The Headhunter
Last Updated: April 9, 2022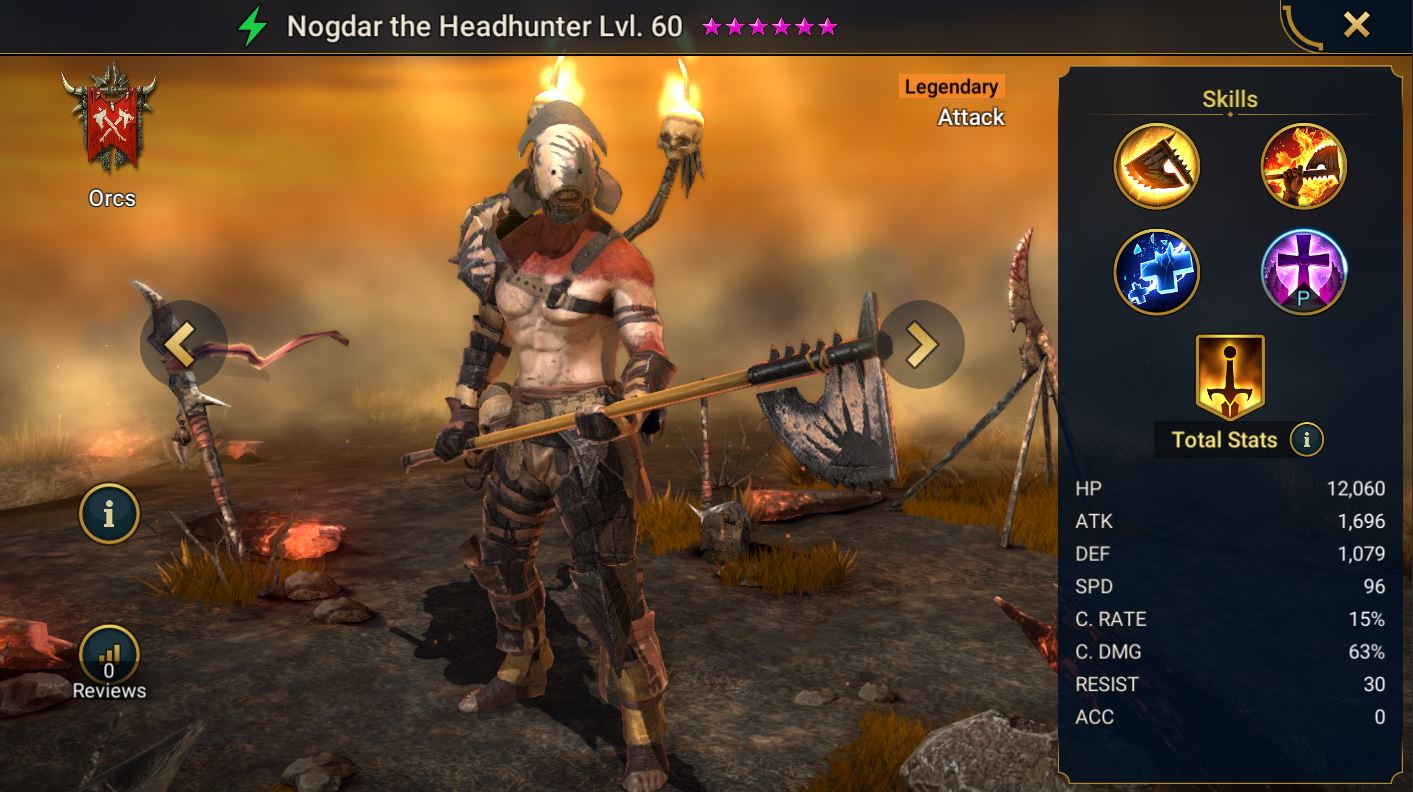 Champion Overall Rating:

3.5
Key Areas
| | |
| --- | --- |
| Arena Def: | 7 |
| Arena Atk: | 7 |
| Clan Boss: | 2 |
| Hydra: | 2 |
| Doom Tower: | 4 |
Dungeons
| | |
| --- | --- |
| Spider: | 6 |
| Fire Knight: | 6 |
| Dragon: | 4 |
| Ice Golem: | 7 |
| | |
| --- | --- |
| Magma Dragon: | 3 |
| Frost Spider: | 3 |
| Nether Spider: | 4 |
| Scarab King: | 3 |
| | |
| --- | --- |
| Eternal Dragon: | 4 |
| Celestial Griffin: | 4 |
| Dreadhorn: | 4 |
| Dark Fae: | 4 |
Nogdar The Headhunter
Nodgar the Headhunter is a Spirit affinity legendary from the Orcs faction. Norgar was added to Raid during patch 3.30 in February 2021.
Nodgar has high damage multipliers and a very specialist kit focused on Arena damage and full team nukage!
Outside of the Arena his kit offers very little besides raw damage.
Brutal Verdict [ATK]
Attacks 1 enemy. Heals this Champion by 10% of their MAX HP. Grants an Extra Turn if this attack kills an enemy.
Level 2: Damage +10%
Level 3: Damage +10%
Level 4: Damage +10%
Level 5: Damage +10%
Damage Rating
Multiplier: 3.3*ATKOverall Grading*: Godlike
Gore Feast [ATK] [HP] - 5 Turn Cooldown
Attacks all enemies. After attacking, this champion sacrifices HP equal to 50% of their MAX HP, then places two 15% [Continuous Heal] buffs on this Champion for 2 turns.
The HP sacrifice will happen even if it kills this Champion.
Level 2: Damage +10%
Level 3: Damage +10%
Level 4: Damage +10%
Level 5: Cooldown -1
Damage Rating
Multiplier: 3.2*ATKOverall Grading*: Godlike
Last Rites - 7 Turn Cooldown
Sacrifices HP equal to 50% of this Champion's MAX HP, then equalises HP levels with the target enemy. The HP levels of both this champion and the target enemy will be brought down to the level of the one with the lowest HP.
[Does not work against bosses. This champion cannot be killed by this skill]
Level 2: Cooldown -1
Level 3: Cooldown -1
Damage Rating
Multiplier: 0.5*HPOverall Grading*: Weak
Headsman's Return (Passive) - 1 Turn Cooldown
Revives this Champion with 50% HP and 50% Turn Meter when killed if all other allies are alive.
[Does not work if there are multiple Nogdars on the team or if there are 3 or fewer champions on the team.]
(Aura)
Increases ally ATK in all Battles by 33%
Offense
Defense
Support
Offense
Defense
Support
Recommended PVE Artifact Sets
Savage, Cruel, Swift Parry, Relentless
Recommended PVP Artifact Sets
Savage, Cruel, Swift Parry, Relentless