Richtoff the Bold
Last Updated: September 22, 2022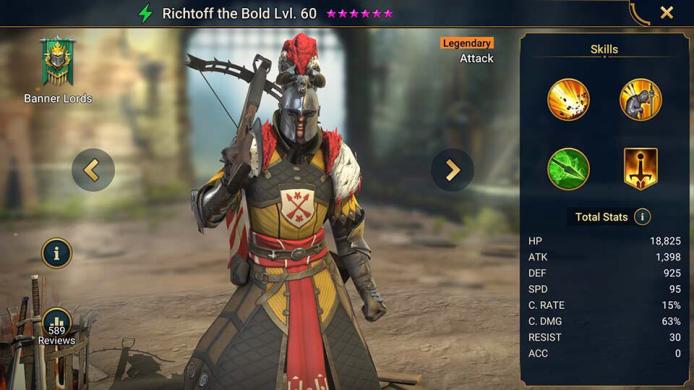 Champion Overall Rating:

4
Key Areas
| | |
| --- | --- |
| Arena Def: | 6 |
| Arena Atk: | 6 |
| Clan Boss: | 8 |
| Hydra: | 6 |
| Doom Tower: | 8 |
Dungeons
| | |
| --- | --- |
| Spider: | 7 |
| Fire Knight: | 8 |
| Dragon: | 10 |
| Ice Golem: | 9 |
| Iron Twins: | 8 |
| | |
| --- | --- |
| Magma Dragon: | 5 |
| Frost Spider: | 9 |
| Nether Spider: | 7 |
| Scarab King: | 9 |
| | |
| --- | --- |
| Eternal Dragon: | 9 |
| Celestial Griffin: | 6 |
| Dreadhorn: | 4 |
| Dark Fae: | 6 |
Richtoff the Bold
Richtoff the Bold is a bit like that distant Uncle and Aunt because you know they exist but you only see them at family occasions. We know Richtoff exists but we mostly forget he's in the game. However, he did receive a buff in September 2020 which was much needed because he was a vault champion for the longest time but now he does have some use.
He performs well in Dragon because he uses his a2 to place poisons then his a3 increases his crit damage for each poison on the target, therefore he will smack!
In waves of dungeons, he has some use because of his great AOE poison ability. Paired with poison exploder they can create some of the highest damage and fastest compositions in Raid.
Richtoff has been widely used in Doom Tower in these exact compositions. He has a decrease enemy max HP ability on his A1 and is one of the few positive affinities to Borgoth to do this to break his shield.
He is also a great champion for Ice golem and strong in Faction Wars.
Ruination [ATK]
Attacks all enemies. Decreases each target's MAX HP by 30% of the damage inflicted.
Level 2: Damage +5%
Level 3: Damage +5%
Level 4: Damage +5%
Level 5: Damage +5%
Damage Rating
Multiplier: 1.7*ATKOverall Grading*: Weak
Bloodletting [ATK] - 4 Turn Cooldown
Attacks 1 enemy 3 times. Places a 5% Poison debuff on all enemies for 2 turns.
Level 2: Damage +5%
Level 3: Damage +5%
Level 4: Damage +5%
Level 5: Cooldown -1
Damage Rating
Multiplier: 1.9*ATKOverall Grading*: Strong
Cursehold [ATK] - 5 Turn Cooldown
Attacks 1 enemy. Critical damage increases by 20% for each Poison debuff on the target. Stacks up to 100%.
Level 2: Damage +5%
Level 3: Damage +5%
Level 4: Cooldown -1
Damage Rating
Multiplier: 6.2*ATKOverall Grading*: Godlike
(Aura)
Increases ally ATK in Faction Crypts by 27%
Offense
Defense
Support
Offense
Defense