Vogoth
Last Updated: April 9, 2022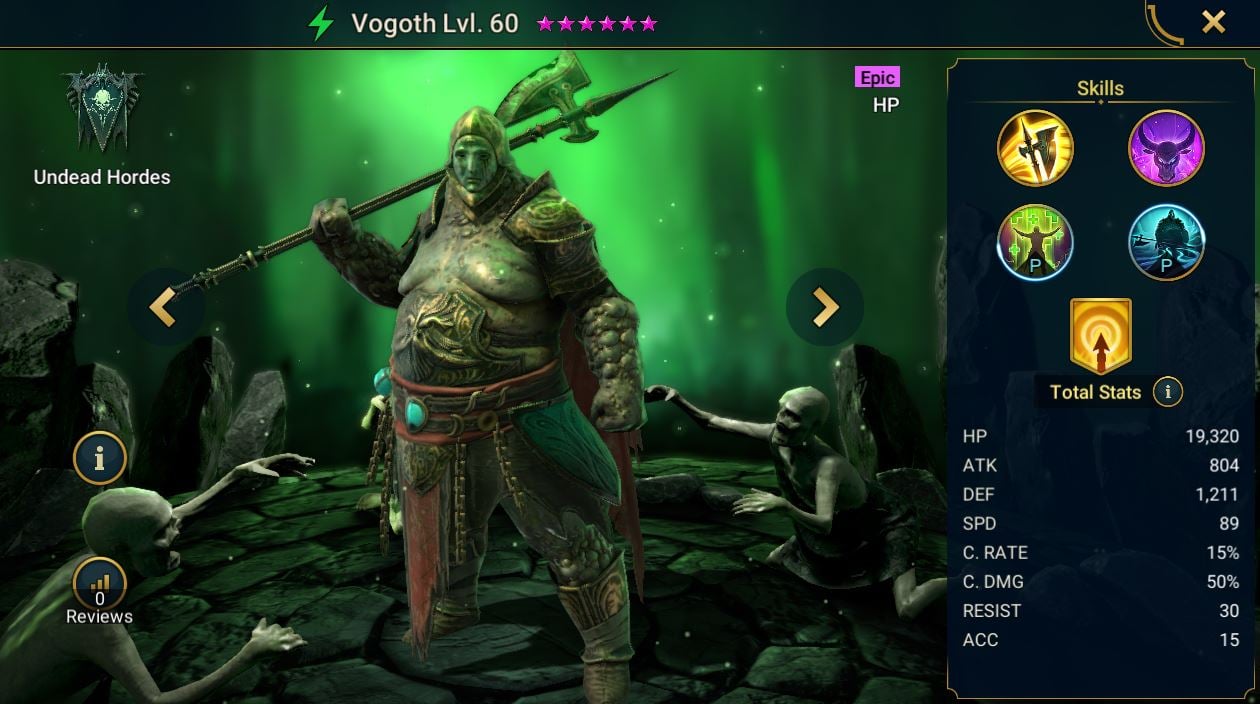 Champion Overall Rating:

4.5
Arena Defence GOD
Key Areas
| | |
| --- | --- |
| Arena Def: | 10 |
| Arena Atk: | 8 |
| Clan Boss: | 8 |
| Hydra: | 8 |
| Doom Tower: | 10 |
Dungeons
| | |
| --- | --- |
| Spider: | 9 |
| Fire Knight: | 10 |
| Dragon: | 8 |
| Ice Golem: | 10 |
| Iron Twins: | 10 |
Faction Wars
Decrease Attack:
Damage:
Crowd Control:
Protection and Support:
| | |
| --- | --- |
| Magma Dragon: | 9 |
| Frost Spider: | 8 |
| Nether Spider: | 4 |
| Scarab King: | 4 |
| | |
| --- | --- |
| Eternal Dragon: | 10 |
| Celestial Griffin: | 10 |
| Dreadhorn: | 10 |
| Dark Fae: | 4 |
Vogoth
From the marshlands in the deep west Vogoth and his Horde mastered the art of passive healing giving them all extremely long lives. No-one truly knows his age or his origins but he is seen as nearly immortal with his skin tissue regenerating even as you strike him.
Vogoth is a Spirit affinity epic from the Undead Hordes faction. Vogoth was added to Raid Shadow Legends in January 2021 as part of patch 3.2. Vogoth is an HP based champion enabling built-in survivability that pairs well with his AOE provoke and decrease attack A2. He also has a built-in heal mechanic on his passive and places leech as part of a 2nd passive. This is useful in a Clan Boss team that is looking to move away from lifesteal gear.
Vogoth is a god-tier healer against Bommal where the bombs exploding endanger your team (paired with Geomancer he is deadly). He is also used at high level runs of the Iron Twins and can carry a team against any dungeon. The triple hit give him decent utility against Fire Knight but one tip, he hits like a noodle, so don't build for damage, build as a tank.
In high level arena Vogoth is being used as an amazing defensive unit healing his team whenever big hits are coming in!
Vogoth is a great all-rounder capable of supporting teams against most content and the best part is books are not essential to gain his healing power!
Horrendous Strength
Attacks 1 enemy 3 times. Each hit has a 30% chance of increasing the duration of 1 random debuff on the target by 1 turn.
Level 2: Damage +5%
Level 3: Damage +5%
Level 4: Damage +5%
Level 5: Buff/Debuff Chance +5%
Level 6: Buff/Debuff Chance +5%
Damage Rating
Multiplier: 0.07*HPOverall Grading*: Weak
Wave of Revulsion - 4 Turn Cooldown
Attacks all enemies. Has a 60% chance of placing a [Provoke] debuff on all enemies for 1 turn. Also has a 60% chance of placing a 50% [Decrease ATK] debuff for 2 turns on targets who recieve [Provoke] debuff from this skill.
Level 2: Damage +5%
Level 3: Damage +5%
Level 4: Buff/Debuff Chance +5%
Level 5: Buff/Debuff Chance +5%
Level 6: Buff/Debuff Chance +5%
Level 7: Cooldown -1
Damage Rating
Multiplier: 0.2*HPOverall Grading*: Weak
Festering Dynamo [P]
Whenever this Champion is attacked, heals all allies by 50% of the damage received.
[Only heals by 25% of the damage received from boss attacks. This champion only receives half of the heal that all other allies receive.]
Eerie Presence [P]
When attacked, places a [Leech] debuff on the attacker for 2 turns.
If the attacker is under a [Provoke] debuff placed by this Champion, also has a 70% chance of increasing the cooldown of a random skill on the attacker by 2 turns. Occurs once per attack.
Level 2: Buff/Debuff Chance +10%
Level 3: Buff/Debuff Chance +10%
Level 4: Buff/Debuff Chance +10%
Aura
Increase Ally ACC in all Battles by 40
Offense
Defense
Support
Offense
Defense