Draconis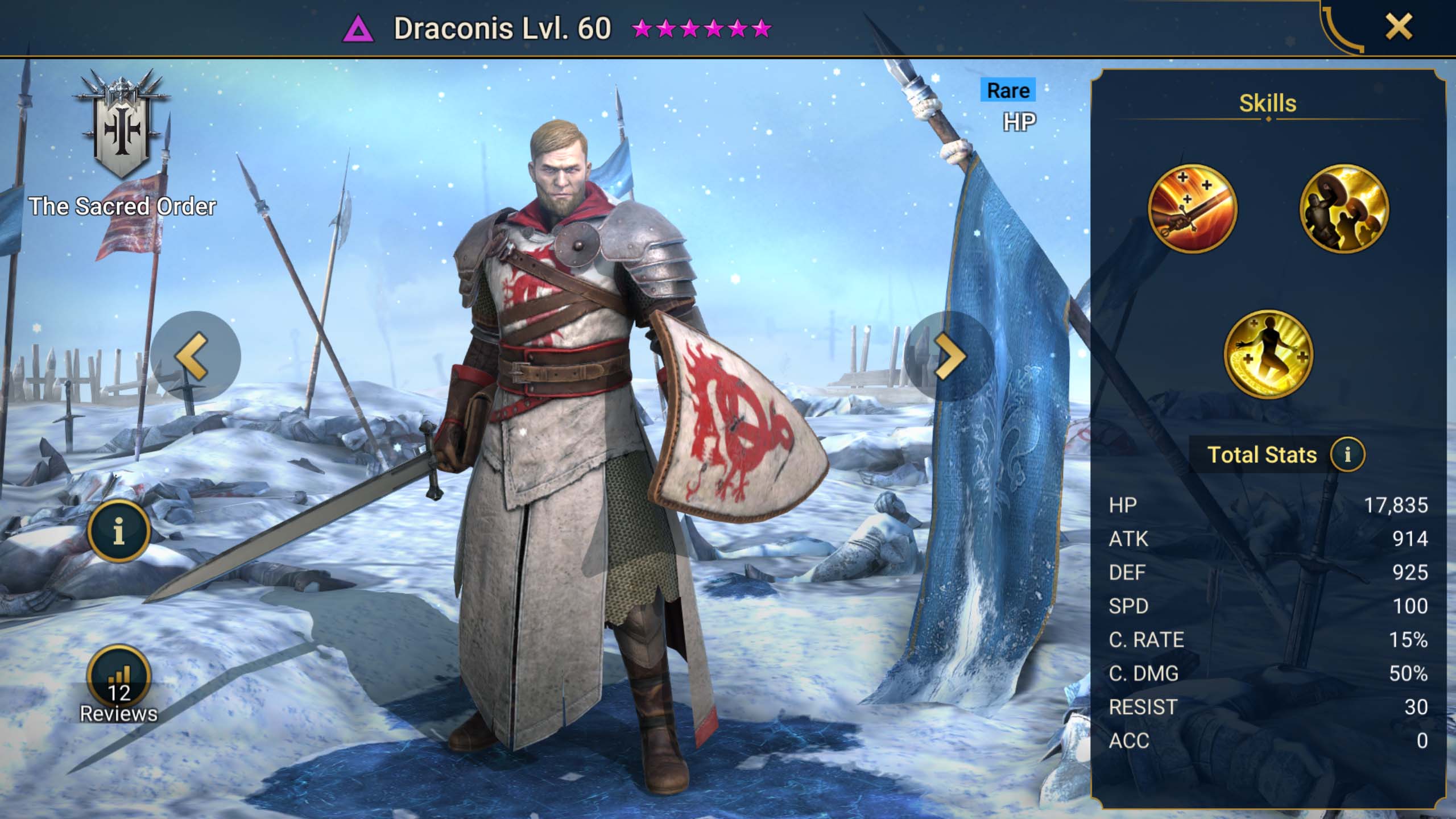 Champion Overall Rating:

3
Key Areas
| | |
| --- | --- |
| Arena Def: | 4 |
| Arena Atk: | 4 |
| Clan Boss: | 6 |
| Faction Wars: | 6 |
Dungeons
| | |
| --- | --- |
| Spider: | 7 |
| Fire Knight: | 6 |
| Dragon: | 7 |
| Ice Golem: | 8 |
Doom Tower
| | |
| --- | --- |
| Magma Dragon: | 6 |
| Frost Spider: | 6 |
| Nether Spider: | 7 |
| Scarab King: | 10 |
Draconis
Draconis is a Void affinity rare from the Sacred Order faction. Draconis was added to Raid as part of the Verguumkaar fusion as one of the rares used to fuse this legendary.
Draconis was one of the best rares introduced into Raid in 2020 and he became even stronger when Doom Tower was released due to his great shield ability. Draconis is an out and out support champion that doesn't need any accuracy. His damage is based on HP, therefore high HP, speed and crit rate are all worthwhile stats on him.
Draconis is strong is any PVE content but strongest against Borgoth the Scarab King.
Beneficence [HP]
Attacks 1 enemy. Heals the ally with the lowest HP by 7.5% of the damage inflicted.
Level 2: Damage +5%
Level 3: Damage +5%
Level 4: Heal +5%
Level 5: Heal+5%
Damage Multiplier: 0.22 HP
Sacred Wards
Cooldown: 4 turns
Places a Shield buff on all allies equal to 15% of this champion's MAX HP for 2 turns.
Level 2: Shield +5%
Level 3: Shield +5%
Level 4: Shield +5%
Level 5: Cooldown -1
Order of Mercy
Cooldown: 5 turns
Attacks 1 enemy. Removes all debuffs from the ally with the lowest HP, then heals them by 25% of the damage inflicted.
Level 2: Damage +5%
Level 3: Damage +5%
Level 4: Damage +5%
Level 5: Damage +5%
Level 6: Cooldown -1
Damage Multiplier: 0.34 HP
Recommended PVE Artifact Sets
Recommended PVP Artifact Sets