Emic Trunkheart
Last Updated: September 1, 2023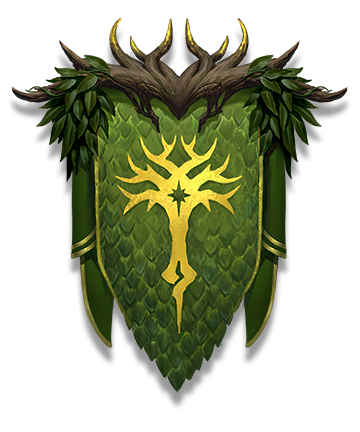 Key Areas
| | |
| --- | --- |
| Clan Boss: | |
| Hydra: | |
| Doom Tower: | |
| Iron Twins: | |
| Sand Devil: | |
| Shogun Grove: | |
Dungeons
| | |
| --- | --- |
| Spider: | |
| Fire Knight: | |
| Dragon: | |
| Ice Golem: | |
| | |
| --- | --- |
| Magma Dragon: | |
| Frost Spider: | |
| Nether Spider: | |
| Scarab King: | |
| | |
| --- | --- |
| Eternal Dragon: | |
| Celestial Griffin: | |
| Dreadhorn: | |
| Dark Fae: | |
Damage:
Protection and Support:
Arena Roles


Understanding Arena Roles
×
Champions normally form specific roles within an arena team. Our ratings define the roles that the champion fits and rates them on their ability to perform the roles. Below you can see a breakdown of all of our roles.

Cleanser
Champions with the Cleanser role will use their skills to remove debuffs and keep them from being re-applied.

Crowd Control
Champions with the Crowd Control role will use their skills to place soft (i.e. Provoke or Taunt) and hard (i.e Freeze or Stun) debuffs to disable enemy champions.

Damage
Champions with the Damage role will have skills that deal significant damage and are designed to defeat enemy champions.

Damage Absorption
Champions with the Damage Absorption role will have skills or effects that reduce the incoming damage your team takes. This can be through passive damage reduction or by applying skills such as Strengthen or Shields.

Healer
Champions with the Healer role will have skills that restore your champion's Health including Continuous Heals.

Debuffer
Champions with the Debuffer role will have skills that place debuffs that don't fall into Crowd Control or Skill Manipulator roles i.e. Decrease Defence. These champions may also have skills that remove Buffs.

Revive
Champions with the Revive role will have skills that bring your ally champions back from the dead including Revive on Death buffs.

Skill Manipulator
Champions with the Skill Manipulator role will have skills that increase enemy skill cooldowns or reduce your ally skill cooldowns.

Speed Manipulator
Champions with the Speed Manipulator role will have skills that affect the turn meter of your allies or enemies. This includes speed buffs and debuffs aswell as direct turn meter effects.
Live Arena
Select an Arena Tier to retrieve stats
Mythical Champions have multiple forms with different roles. We are currently re-working our ratings to support this dynamic.

Emic Trunkheart Overview
This warrior erupts Vinequakes from the earths roots to entangle his foe, whilst protecting his allies to become Unkillable in the toughest of battles! Emic Trunkheart is a Void Legendary HP champion, joining the Sylvan Watchers Faction as the July 2023 Fusion.
Trunkheart has a versatile skill set to tackle some of Raid's toughest encounters, utilising multiple forms of Shield placements, coinciding with Decrease Skill Cooldowns effects. Opening with Vinequake [A2], he attacks all enemies, then places a Shield buff equal to 30% of this Champion's Max HP, followed by Decreasing The Cooldown of ally skills by 1 turn [Except himself]. Although this can be used universally for protection for content such as the Scarab King, having a synergy to reduce cooldowns will assist allies in cycling their skills more efficiently!
Leading in to the Trunkheart's Sanctuary [A3], he places an Unkillable Buff on allies for 2 turns, followed by a Taunt & Shield buff on himself. When referring to content such as The Clan Boss, Unkillable buffs are always sought after by players to create some really optimal teams, therefore Emic will open a lot of doors for utility in this area. The taunt segment of this skill will be great for the Phantom Shoguns Grove to control some of the bosses skills, and pairs really well for PVP battles to gain optimal value from the passive skill.
The Entanglement passive is full of tricks to manipulate enemy cooldowns, due to increasing random skill cooldowns on enemies who attack him while under Shield buffs. If you strategically use the A3 to place Taunt, this will enable single target champions to forcefully attack him, therefore building in some Accuracy will become tedious for enemies to counter! Trunkheart will also be extremely helpful for progressing through the Sylvan Watchers Faction Wars.
Earthroot Tendril
Attacks 1 enemy. Increases the value of all [Shield] buffs on this Champion by 25%. Also increases the value of any [Shield] buffs on the ally with the lowest HP by 25%. The increased value of the [Shield] buffs cannot exceed 10,000 HP.
Level 2: Damage +5%
Level 3: Damage +5%
Level 4: Damage +5%
Level 5: Damage +5%
Damage Rating
Multiplier: 0.24*HPOverall Grading*: Strong
Vinequake - 4 Turn Cooldown
Attacks all enemies. Places a [Shield] buff on all allies equal to 30% of this Champion's MAX HP for 2 turns. Decreases the cooldown of all ally skills, except this Champion's, by 1 turn.
Level 2: Damage +10%
Level 3: Damage +10%
Level 4: Cooldown -1
Damage Rating
Multiplier: 0.27*HPOverall Grading*: Average
Trunkheart's Sanctuary - 6 Turn Cooldown
Places an [Unkillable] buff on all allies for 2 turns. Also places a [Taunt] buff and a [Shield] buff on the Champion for 2 turns. The value of the [Shield] is equal to 30% of this Champion's MAX HP.
Level 2: Cooldown -1
Level 3: Cooldown -1
Entanglement [P]
When attacked under a [Shield] buff, has a 50% chance of increasing the cooldown of a random skill on the attacker by 2 turns. Occurs once per attack. Whenever an ally's HP drops below 20%, increases the damage dealt by that ally by 20%.
Level 2: Buff/Debuff chance +10%
Level 3: Buff/Debuff chance +15%
Aura
Increases Ally HP in all battles by 30%
Emic Trunkheart PVE Masteries
Offense
Defense
Support
Offense
Defense
Support
Emic Trunkheart PVP Masteries
Offense
Defense
Support