Yakarl the Scourge
Last Updated: April 9, 2022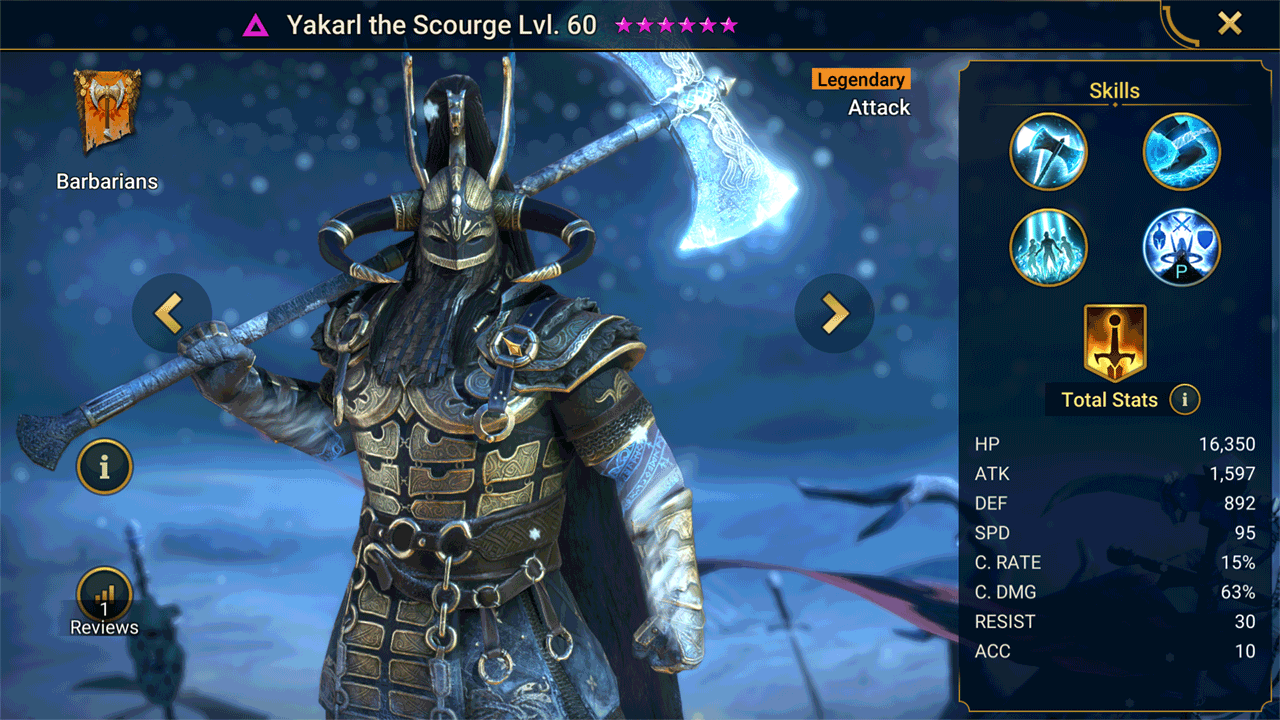 Champion Overall Rating:

4
Dark Fae God
Key Areas
| | |
| --- | --- |
| Arena Def: | 9 |
| Arena Atk: | 9 |
| Clan Boss: | 4 |
| Hydra: | 5 |
| Doom Tower: | 9 |
Dungeons
| | |
| --- | --- |
| Spider: | 9 |
| Fire Knight: | 7 |
| Dragon: | 7 |
| Ice Golem: | 8 |
| Iron Twins: | 6 |
Faction Wars
Damage:
Crowd Control:
Turn Meter Control:
| | |
| --- | --- |
| Magma Dragon: | 6 |
| Frost Spider: | 8 |
| Nether Spider: | 7 |
| Scarab King: | 6 |
| | |
| --- | --- |
| Eternal Dragon: | 6 |
| Celestial Griffin: | 5 |
| Dreadhorn: | 8 |
| Dark Fae: | 10 |
Yakarl the Scourge
Yakarl the Scource, Blizzard King of the Barbarians launches his conquest upon Teleria with arguably the most awesome background in the game!
Upon his release he was considered average and very difficult to use. Considering the status of a Void Legendary he felt underwhelming and generally looked far better than he played. In Patch 5.30 he received quite a comprehensive rework. Freeze is very much a focus for the Blizzard King and he benefits from the debuff. He has a Candraphon-esque passive which increase his damage and decreases the damage he receives by 10% for every freeze debuff in the battle (ally or enemy). His A3 is now far less complicated, a straightforward AoE that carries a chance to freeze (100% if the TM is greater than 75% on the enemy and irresistible!). The rework has moved him up in usefulness and now can possibly play some MVP roles in teams.
His main uses will come in Doom Tower and Arena. His freeze and passive allow you to run him a bit squishy as he will gain innate damage reduction on his passive. He would work best when paired with another freeze Champion such as Ninja or Gliseah Soulguide. He is especially good against Dark Fae as he brings a 100% Turn Meter steal and can be used as your Arena Nuker. Remember: Freeze will penalise your damage reducing it by 25%!
All players can earn Yakarl the Scourge from Fragments bought using Clan Gold in the Clan Shop
Axe of Allwinter
Attacks 1 enemy 2 times. Each hit has a 40% chance of placing a [Freeze] debuff for 1 turn.
Will also ignore 25% of the target's DEF against enemies under [Freeze] debuffs.
Level 2: Damage +5%
Level 3: Damage +5%
Level 4: Buff/Debuff Chance +5%
Level 5: Buff/Debuff Chance +5%
Damage Rating
Multiplier: 1.8*ATKOverall Grading*: Godlike
Blizzard Rider - 4 Turn Cooldown
Attacks 1 enemy. Has a 75% chance of placing a 30% [Decrease SPD] debuff for 3 turns and a 75% chance of placing a [Freeze] debuff for 1 turn.
Also steals 100% of the target's Turn Meter and places a 30% [Increase SPD] buff on this champion for 3 turns.
Will ignore 50% of the target's DEF against targets under [Freeze] debuffs.
Level 2: Damage +10%
Level 3: Buff/Debuff Chance +10%
Level 4: Buff/Debuff Chance +15%
Level 5: Cooldown -1
Damage Rating
Multiplier: 6*ATKOverall Grading*: Godlike
Glaciate - 5 Turn Cooldown
Attacks all enemies. Has a 75% chance of placing a [Freeze] debuff for 1 turn. This chance increase to 100% against target's with 75% or more Turn Meter. This debuff cannot be resisted by targets with 75% or more Turn Meter.
Level 2: Damage +5%
Level 3: Damage +5%
Level 4: Damage +10%
Level 5: Cooldown -1
Damage Rating
Multiplier: 3.8*ATKOverall Grading*: Godlike
Lord of Ice [P] - 3 Turn Cooldown
[Passive Effect]
Increases the damage this Champion inflicts by 10% for each Champion in battle under a [Freeze] debuff (ally or enemy)
Also decreases the damage this Champion receives by 10% for each Champion under a [Freeze] debuff (ally or enemy)
[Active Effect]
Places an [Unkillable] buff on this champion for 1 turn whenever they kill an enemy under a [Freeze] debuff
Aura
Increases Ally ATK in All Battles by 33%
Offense
Defense
Support
Offense
Defense