Plarium Exclusive with ASH: Two Massive Updates!

ASH has been given the opportunity to interview Cirilla from Plarium regarding several massive updates coming in the future!
You can watch the Full Interview on Ash's YouTube Channel, however, it will also be featured at the bottom of this article.
We're going to break down all of the key points that were addressed within the interview, although most of it was very vaguely addressed, there is a LOT of new things coming in the near-somewhat distant future.
Let's get into it!

Primal Shards & Mythical Champions:
Having heard the communities comments about Primal Shards, Plarium felt that they had miscommunicated them initially, so to clear things up – Cirilla expressed that the modifications to the Mercy System on Primal Shards, the drop in Primal Shard price by increasing the amount available in offers is NOT all that is coming, they will be doing more tweaks and adjustments in the future to improve Primal Shards and Mythical Champions.
There is currently no intention of doing 2x Events for Primal Shards at the current point in time, because there are simply not enough Champions in the game (Mythicals) for it to feel worth it, but they will be gradually releasing more and may consider 2x Events in the future.
As for the impact of Mythical Champions, and the communities' criticism around them, the idea was not for Mythical Champions to come into the game and undermine years of player progress, the intention behind them was to expand the pool of possibilities with Champions able to morph and fulfil multiple roles.
More Mythical Champions will be added at quite a steady pace by the sounds of it, potentially up to several a month, as well as more ways to get Champions in the game – with Hydra Clash appearing to be quite a key focal point, with Primal Quartz increasing as well as the addition of Mythical Skill Tomes.
Primal Quartz will also be added to Live Arena Chests.
As for the current Mythical Champions; Plarium are aware that Siegfrund needs reworking regarding his survivability, and they are working on it.
ASH Also asked Cirilla about the decision to include Rare Champions in Primal Shards, and the lack of Void Champions, and the answer was fairly understandable; Sacred Shards should be the BEST Shard Type, Primals weren't designed to knock them off of the top spot, rather to be a similar value to Void Shards.
There's no immediate plans to add void Champions to Primal Shards, but the idea is being left open within the team at Plarium.
Corpulent Cadaver Nerfed!
Corpulent Cadaver has been taking the world of Hydra Clan Boss by storm in recent months, especially since the addition of Hydra Clash, as he was able to form a vital part of a team capable of doing RIDICULOUS Damage, well, not any more – Cadaver has been hit by the nerf bat, mainly focussed around a cap on the damage capabilities of his A1 ability, which will cap out at 200,000 now rather than the multi-millions it was hitting previously in the right conditions.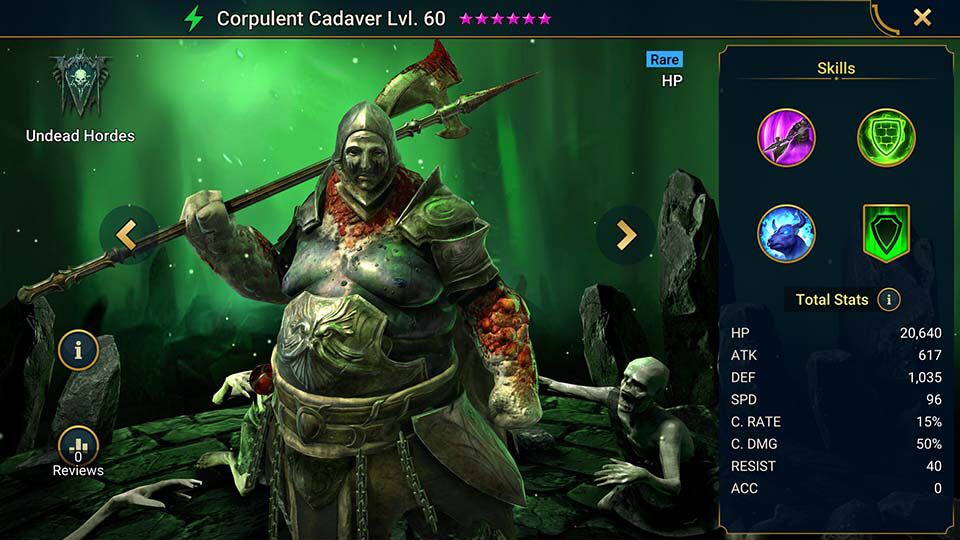 Permanent Mythical Fusion
Cirilla was able to announce that NEXT week we will have a Mythical Fusion, which will be permanent, similar to how the current Rhazin Scarhide Fusion works, this will not be easy by any means, and by the sounds of it – we may have already seen this Champion, although it is apparently not the recent teaser video on social media.
Huge Mystery Content:
This is very vague, but Cirilla has confirmed that a new Content Area described as "a big ocean of content" is coming to the game, before the end of 2023 – This will NOT be the Great Void, but something else entirely, that is going to be even bigger than Doom Tower.
There will be a free Mythical Champion as the reward, similar to how we acquire Lydia the Deathsiren by completing Faction Wars.
We have no more information on this currently, but keep your eyes peeled as it's very likely that Plarium will want to hype this massively if it's as big as Cirilla teased.

Quality of Life Updates:
There are several Quality of Life updates incoming in the coming months, but changes are coming:
+200 Artifact, Accessories and Champion Storage EACH.
Permanent Super Raids in Dungeons.
Artifact Ascension  Bonus Reroll!
Polymorph Issues:
Polymorph has been a thorn in every player's side since it was released, in Arena – and recently Plarium made some adjustments to how it worked, but let's be honest, they just weren't quite enough for what was needed.
Well, the good news is – they are still not happy with Polymorph, and more changes are planned for the beginning of 2024 – This could include changing it to proc once per skill, rather than once per debuff, to reduce the likelihood of it triggering.
Champion Rebalances:
The team who work on Champion Rebalancing have been busy with Mythicals, and new Champions, however when 2024 rolls around, they will be back in full force implementing several Champion Rebalances every single month, with Cirilla suggesting that Angar and Fortus would be amongst the first batch in the new year.
The primary focus will be on rebalancing Legendary Champions first, and then occasionally looking at Rares and Epics based on player opinion.
There is no answer as to whether Rare and/or Epic Empowerment will be coming to the game, it's a topic that is going to be discussed with the design team in the future.
Clan Wars!
Clan Wars are coming to RAID: Shadow Legends – these will be completely different from Clan vs Clan Tournaments, however, Plarium are not rushing this feature, and is not the teased 'Massive Update' coming this year, it will be released next year at some point most likely.

What do you think of these Massive Updates coming to RAID: Shadow Legends in the future? Let us know in the comments!