Haruspex
Last Updated: July 12, 2023
Haruspex Overview
Haruspex is a Void Rare from the Lizardmen faction and a top 10 rare in Raid: Shadow Legends. The strongest area of the game for Haruspex is Faction Wars due to the weak nature of the overall faction and due to the great skill set Haruspex brings. Any champion with abilities to boost turn meter and revive the dead needs to be seriously considered right through to end game Faction Wars! Haruspex also has a weak poison ensuring he brings value in Dragon and Clan Boss and he has an Arena speed aura which is required in the early game.
Overall a great rare with lots of options and genuine end game use!
Haruspex PVE Masteries
Offense






















Defense






















Support






















Haruspex PVP Masteries
Offense






















Defense






















Support






















Haruspex Blessings
We recommend you use these blessings for Haruspex.
Team Blessings should be limited to 1 per team. For more information, please read our Team Blessings guide
here
.
Tank

survival instinct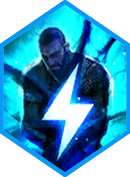 Haruspex Gear Recommendations
Recommended PVE Artifact Sets
Lifesteal, Speed, Accuracy, Perception
Recommended PVP Artifact Sets