Madame Serris
Last Updated: July 17, 2023
Madame Serris Overview
Madame Serris is a Void affinity epic from the Dark Elves faction. She was introduced during Halloween 2019 and remains one of the best champions in the game.
Many end game players rate her as THE BEST arena champion in the entire game! Madame Serris has a signature A3 ability that removes all buffs from all enemies and replaces them with a decrease attack and decrease defence debuff. Madame is generally used to go 2nd in an arena team to set up your damage dealer to destroy the enemy team in 1 shot!
In order to make the most from your Madame you need to build her fast and high accuracy. high HP also helps with her shield passive ability.
Outside of the arena Madame is also strong due to the same abilities in ALL content in Raid: Shadow Legends.
Must build champion on your roster and one of the few champions I would recommend to build dupes of for 3v3 Arena!
Madame Serris PVE Masteries
Offense






















Defense






















Support






















Madame Serris PVP Masteries
Offense






















Defense






















Support






















Madame Serris Blessings
We recommend you use these blessings for Madame Serris.
Team Blessings should be limited to 1 per team. For more information, please read our Team Blessings guide
here
.
Arena

chainbreaker
Debuffer


cruelty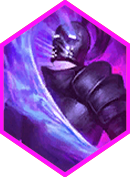 Team Blessing
Consider an alternative blessing if this already exists in your team.
Madame Serris Gear Recommendations
Recommended PVE Stats
ACC, SPD, HP%, C.RATE, DEF%
Recommended PVE Artifact Sets
Speed, Accuracy, Perception, Immortal, Cruel
ACC, SPD, HP%, C.RATE, DEF%
Recommended PVP Artifact Sets
Speed, Accuracy, Perception