Seer
Last Updated: July 17, 2023
Seer Overview
Seer is the best champion in the game for clearing waves fast in Dungeons. End game players will be able to use a Seer paired with someone who applies a lot of buffs to your team in seconds!
One of Seers best partners is Mausoleum Mage from the Undead Hordes. This is because he applies multiple buffs to your team including Crit Rate. Seer removes all these buffs and can hit for 300k+ to every enemy with the right set up and gearing.
Essential stats on a Seer are 100% crit rate, high speed but slower than your buffer, the right accuracy (take dungeon level x10 so if on Dragon 16 – 16×10 =160acc), HP% chest and then as much Crit Damage as you can. She works especially well in Relentless gear.
Seer PVE Masteries
Offense






















Defense






















Support






















Offense






















Defense






















Support






















Seer PVP Masteries
Offense






















Defense






















Support






















Seer Blessings
We recommend you use these blessings for Seer.
Team Blessings should be limited to 1 per team. For more information, please read our Team Blessings guide
here
.
Late Game

crushing rend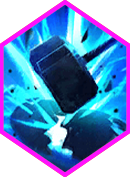 Seer Gear Recommendations
Recommended PVE Stats
ACC, SPD, HP%, C.RATE, C.DMG
Recommended PVE Artifact Sets
Savage, Relentless, Cruel, Speed, Accuracy, Perception, Crit Damage
ACC, SPD, HP%, C.RATE, C.DMG
Recommended PVP Artifact Sets
Savage, Cruel, Speed, Accuracy, Perception, Crit Damage