Wyvernbane
Last Updated: June 4, 2023
Wyvernbane Overview
Throwing her curse fire spear she pierces her foe, leaving them to burn into oblivion! Wyvernbane is a Rare Attack champion from the Orcs Faction.
The core mechanics of this champion revolves around speed manipulation & burns, making her a simple but effective choice in the early game. Starting with her Hobble Pierce (A1), she grants a 30% chance of placing a 15% Decrease Speed Debuff for 2 turns, which coincides with her A2 that has a 50% chance of reducing an enemies Turn Meter by 20%. Although these are small variations of reductions, if you're facing the Fire Knight or Faction Wars bosses these can be useful to gain control. Last but not least, her A3 has a 100% chance of placing a HP Burn Debuff for 2 turns. Unfortunately, using this against the Spider will require Debuff Transfer effects to be effective, however if you're seeking this for single target encounters it is consistent!
Wyvernbane PVE Masteries
Offense






















Defense






















Support






















Wyvernbane PVP Masteries
Offense






















Defense






















Support






















Wyvernbane Blessings
We recommend you use these blessings for Wyvernbane.
Team Blessings should be limited to 1 per team. For more information, please read our Team Blessings guide
here
.
Damage Dealer
phantom touch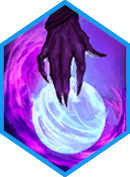 Wyvernbane Gear Recommendations
Recommended PVE Stats
ACC, SPD, C.RATE, C.DMG, HP%, ATK%
Recommended PVE Artifact Sets
Accuracy, Perception, Cruel, Speed
ACC, SPD, C.RATE, C.DMG, ATK%
Recommended PVP Artifact Sets
Savage, Lethal, Stoneskin, Perception