Bloodfeather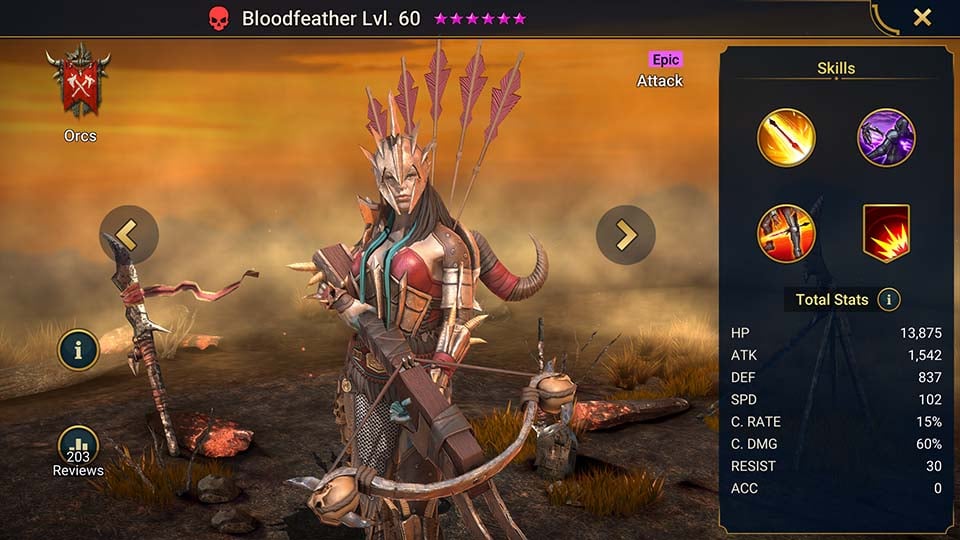 Champion Overall Rating:

2.5
Key Areas
| | |
| --- | --- |
| Arena Def: | 4 |
| Arena Atk: | 5 |
| Clan Boss: | 6 |
| Faction Wars: | 8 |
Dungeons
| | |
| --- | --- |
| Spider: | 6 |
| Fire Knight: | 2 |
| Dragon: | 6 |
| Ice Golem: | 8 |
Doom Tower
| | |
| --- | --- |
| Magma Dragon: | 3 |
| Frost Spider: | 5 |
| Nether Spider: | 3 |
| Scarab King: | 7 |
Bloodfeather
Bloodfeather is a Force affinity epic from the Orc faction. Compared to a lot of epics in Raid Shadow Legends, Bloodfeather does not bring much utility.
Her strongest content is Faction Wars against bosses where she can drop turn meter and place a decrease defence debuff to allow your team to hit the bosses harder.
The biggest value you will get from Bloodfeather is fusing her to become Rhazin Scarhide, the permanent legendary fusion.
Bloodfeather can be fused from four rares, Slitherbrute, Goremask, Preserver and Channeler.
Hunt Down [ATK]
Attacks 1 enemy. Has an extra 20% chance of inflicting a critical hit.
Level 2: Damage +5%
Level 3: Damage +5%
Level 4: Damage +10%
Damage Multiplier: 3.8 ATK
Armor Breaker [ATK]
Cooldown: 5 turns
Attacks 1 enemy. Has an extra 20% chance of inflicting a critical hit. Places a 60% Decrease DEF debuff for 2 turns.
Level 2: Damage +5%
Level 3: Damage +10%
Level 4: Cooldown -1
Level 5: Cooldown -1
Damage Multiplier: 5.3 ATK
Charged Shot [ATK]
Cooldown: 5 turns
Attacks 1 enemy. Places a 30% Decrease SPD debuff for 2 turns. Decreases the target's Turn Meter by 30%. Has an extra 20% chance of inflicting a critical hit.
Level 2: Damage +5%
Level 3: Damage +10%
Level 4: Damage +10%
Level 5: Cooldown -1
Damage Multiplier: 6.1 ATK
(Aura)
Increases Ally C.RATE in Faction Crypts by 20%
ACC, SPD, C.RATE, C.DMG, HP%, ATK%
Recommended PVE Artifact Sets
Lifesteal, Speed, Accuracy, Perception, C.Rate
Recommended PVP Artifact Sets