Fellhound
Last Updated: July 12, 2023
Fellhound Overview
Fellhound is a Void Rare from the Demonspawn faction. Fellhound has a hard hitting A1 Attack all Enemies (AOE) ability that enables a hard hitting campaign farmer if built correctly. Fellhound is best used as a Fire Knight champion where he gains GOD status due to his ability to place reflect damage on your whole team. This ability reacts to the Fire Knight's AOE hit and automatically reduces 1 layer of his shield for each of your team with the reflect damage buff active. Fellhound also has a block damage buff which will always go on the leader of your team if you play the game using the Auto mode!
Overall Fellhound is best placed as a high damage campaign farmer or a tank used to support a Fire Knight team.
Fellhound PVE Masteries
Offense






















Defense






















Support






















Fellhound PVP Masteries
Offense






















Defense






















Support






















Fellhound Blessings
We recommend you use these blessings for Fellhound.
Team Blessings should be limited to 1 per team. For more information, please read our Team Blessings guide
here
.
Damage Dealer
phantom touch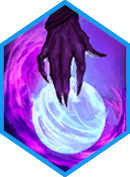 Fellhound Gear Recommendations
Recommended PVE Stats
SPD, DEF%, C.RATE, C.DMG, HP%
Recommended PVE Artifact Sets
Speed, Lifesteal, Immortal
Recommended PVP Artifact Sets