Cromax Moonblood
Last Updated: April 9, 2022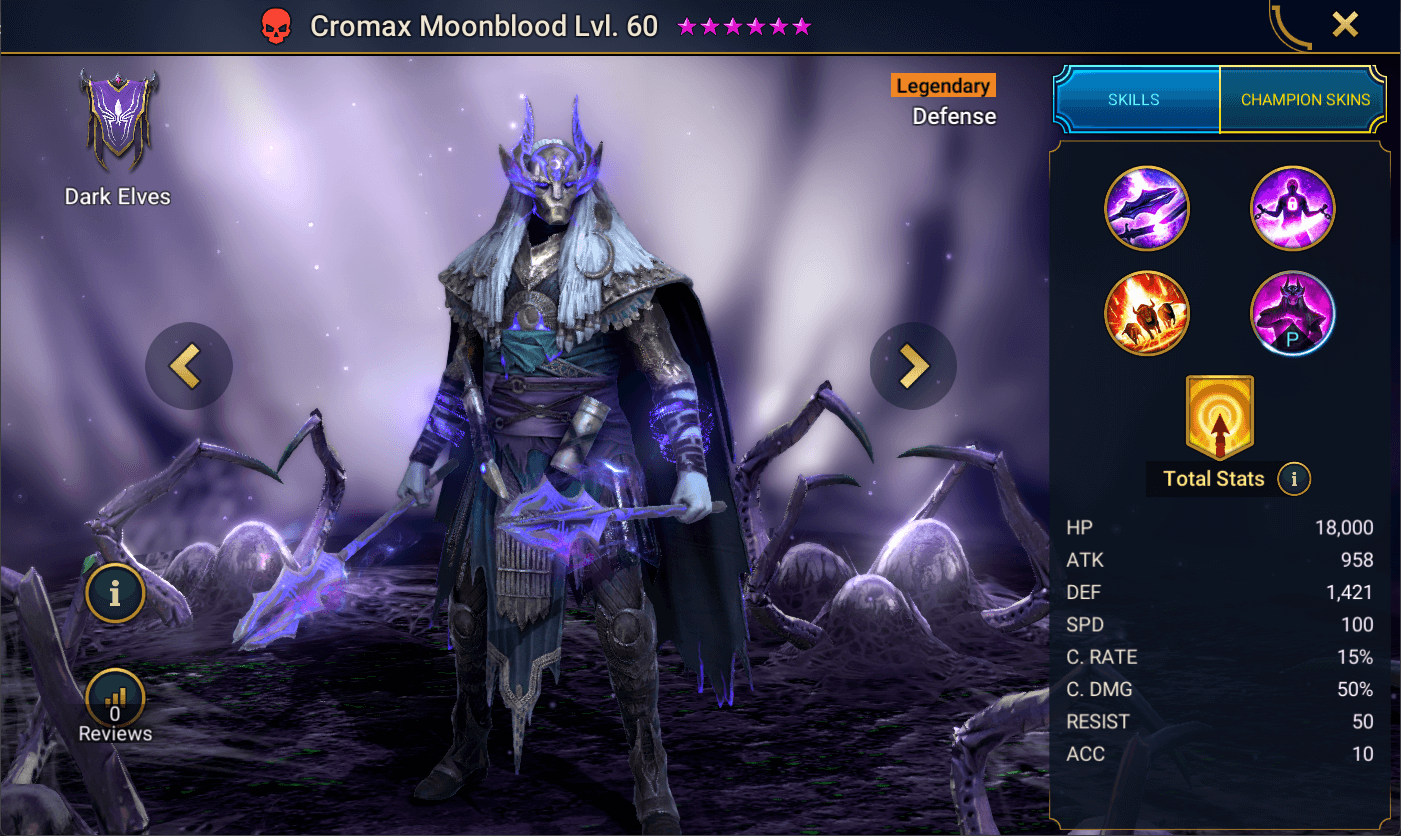 Champion Overall Rating:

3
Hydra Mischief Head Boss
Key Areas
| | |
| --- | --- |
| Arena Def: | 5 |
| Arena Atk: | 5 |
| Clan Boss: | 5 |
| Hydra: | 7 |
| Doom Tower: | 4 |
Dungeons
| | |
| --- | --- |
| Spider: | 6 |
| Fire Knight: | 5 |
| Dragon: | 6 |
| Ice Golem: | 5 |
| Iron Twins: | 6 |
Faction Wars
Decrease Attack:
Damage:
Crowd Control:
| | |
| --- | --- |
| Magma Dragon: | 6 |
| Frost Spider: | 6 |
| Nether Spider: | 4 |
| Scarab King: | 3 |
| | |
| --- | --- |
| Eternal Dragon: | 7 |
| Celestial Griffin: | 4 |
| Dreadhorn: | 6 |
| Dark Fae: | 4 |
Cromax Moonblood
Cromax Moonblood is the seventh Legendary Champion that can be acquired by completing Secret Rooms in Hard Difficulty Doom Tower. You will need to have acquired enough fragments for the previous 6 Legendary champions so this will take some time for many players.
Cromax's main role is to support your team and control the enemy. He brings probably one of the better Hex debuffs of all the Hex Champions as he can place passively whenever attacked. This is quite minor as nothing else in his kit revolves around Hex but could be quite useful when paired with another Hex champion such as Mithrala Lifebane or Urticata. His kit however would be quite useful in Hydra. He brings Decrease Attack and Block Buffs on a single target which can be used with a Spread Debuffs champion and Cromax can also apply an AoE Decrease Accuracy. His passive can help you deal with the Head of Mischief which often is difficulty to place the Hex debuff on.
Outside of Hydra, it is unlikely Cromax will find many uses as he does not provide any priority arena effects.
This Guide will be updated following a full playtest.
Lunar Lance
Attacks 1 enemy. Has a 60% chance of placing a 50% [Decrease ATK] debuff for 2 turns.
Level 2: Damage +5%
Level 3: Damage +5%
Level 4: Buff/Debuff Chance +10%
Damage Rating
Multiplier: 3.3*DEFOverall Grading*: Strong
Moonlight Bonds - 4 Turn Cooldown
Attacks 1 enemy. Has a 75% chance of placing a [Block Buffs] debuff for 2 turns. Also fills this Champion's Turn Meter by 30%
Level 2: Buff/Debuff Chance +10%
Level 3; Damage +10%
Level 4: Buff/Debuff Chance +15%
Level 5: Cooldown -1
Damage Rating
Multiplier: 4.5*DEFOverall Grading*: Average
Blood Moon - 5 Turn Cooldown
Attacks all enemies. Has a 75% chance of placing a [Provoke] debuff for 1 turn and a 50% [Decrease ACC] debuff for 2 turns.
Level 2: Buff/Debuff Chance +10%
Level 3: Buff/Debuff Chance +15%
Level 4: Cooldown -1
Damage Rating
Multiplier: 3.6*DEFOverall Grading*: Average
Silver Fear [P]
When attacked, has a 35% chance of placing a [Hex] debuff on the attacker for 1 turn after each hit.
Level 2: Buff/Debuff Chance +10%
Level 3: Buff/Debuff Chance +10%
Level 4: Buff/Debuff Chance +15%
Aura
Increases Ally ACC in all Battles by 70
Offense
Defense
Support
Offense
Defense