Foli
Last Updated: April 9, 2022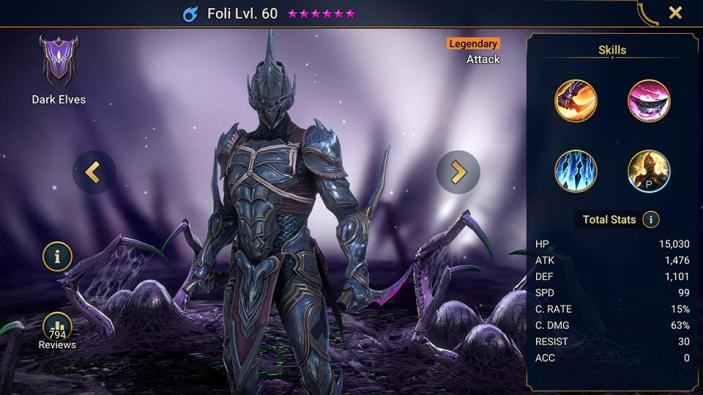 Champion Overall Rating:

3.5
ARENA OFFENCE GOD
Key Areas
| | |
| --- | --- |
| Arena Def: | 9 |
| Arena Atk: | 9 |
| Clan Boss: | 7 |
| Hydra: | 4 |
| Doom Tower: | 8 |
Dungeons
| | |
| --- | --- |
| Spider: | 6 |
| Fire Knight: | 6 |
| Dragon: | 6 |
| Ice Golem: | 8 |
| Iron Twins: | 4 |
Faction Wars
Decrease Defense:
Damage:
Turn Meter Control:
Protection and Support:
| | |
| --- | --- |
| Magma Dragon: | 5 |
| Frost Spider: | 7 |
| Nether Spider: | 2 |
| Scarab King: | 4 |
| | |
| --- | --- |
| Eternal Dragon: | 6 |
| Celestial Griffin: | 6 |
| Dreadhorn: | 6 |
| Dark Fae: | 8 |
Foli
Foli is a magic affinity legendary from the Dark Elves faction. Foli was available as a Fusion champion in July 2019 and was considered by most me included as a waste of a lot of resources and time for a great-looking champion that hit like a noodle and had no real place in the game.
Foli received a buff but still wasn't widely used until Rotos came onto the scene. Rotos needed multiple hits to be killed and Foli has this on his A3 which also will block revive if it kills. Whilst people were trying these builds, it was realized that Foli is one of the best Arena champions in the game. Capable of taking out an entire enemy team provided they have decrease defense on them and Foli has increase attack on him.
Outside of Arena Foli is a mid-level champion able to do some damage in Dungeons but needs a team to keep him alive. His passive does lend itself to allowing Foli to play Clan Boss as a stun target or fight Sorath in Doom Tower as a champion who is difficult to freeze.
Marked for Destruction
Attacks 1 enemy 4 times. Has a 20% chance of placing a 60% Decrease DEF debuff for 2 turns.
Level 2: Damage +5%
Level 3: Damage +5%
Level 4: Buff/Debuff Chance +5%
Damage Rating
Multiplier: 0.9*ATKOverall Grading*: Strong
Biodisruptor - 4 Turn Cooldown
Attack 4 times at random. Each hit has a 35% chance of placing a Leech debuff for 2 turns.
Level 2: Damage +5%
Level 3: Buff/Debuff Chance +10%
Level 4: Damage +10%
Level 5: Cooldown -1
Damage Rating
Multiplier: 1.5*ATKOverall Grading*: Weak
Sealed Fate - 5 Turn Cooldown
Attacks all enemies, decreases their Turn Meters by 15%, then attacks the targeted enemy. Enemies killed by this skill cannot be revived.
Level 2: Damage +5%
Level 3: Damage +10%
Level 4: Cooldown -1
Damage Rating
Multiplier: 4*ATKOverall Grading*: Godlike
Living Armor (Passive) - 5 Turn Cooldown
Whenever an enemy places a [Stun], [Freeze], [Sleep], or [Provoke] debuff on this Champion, instantly removes the debuff, then heals this Champion by 20% of their MAX HP and boosts their Turn Meter by 50%
Level 2: Cooldown -1
Level 3: Cooldown -1
Offense
Defense
Support
Offense
Defense