Taras the Fierce
Last Updated: December 15, 2022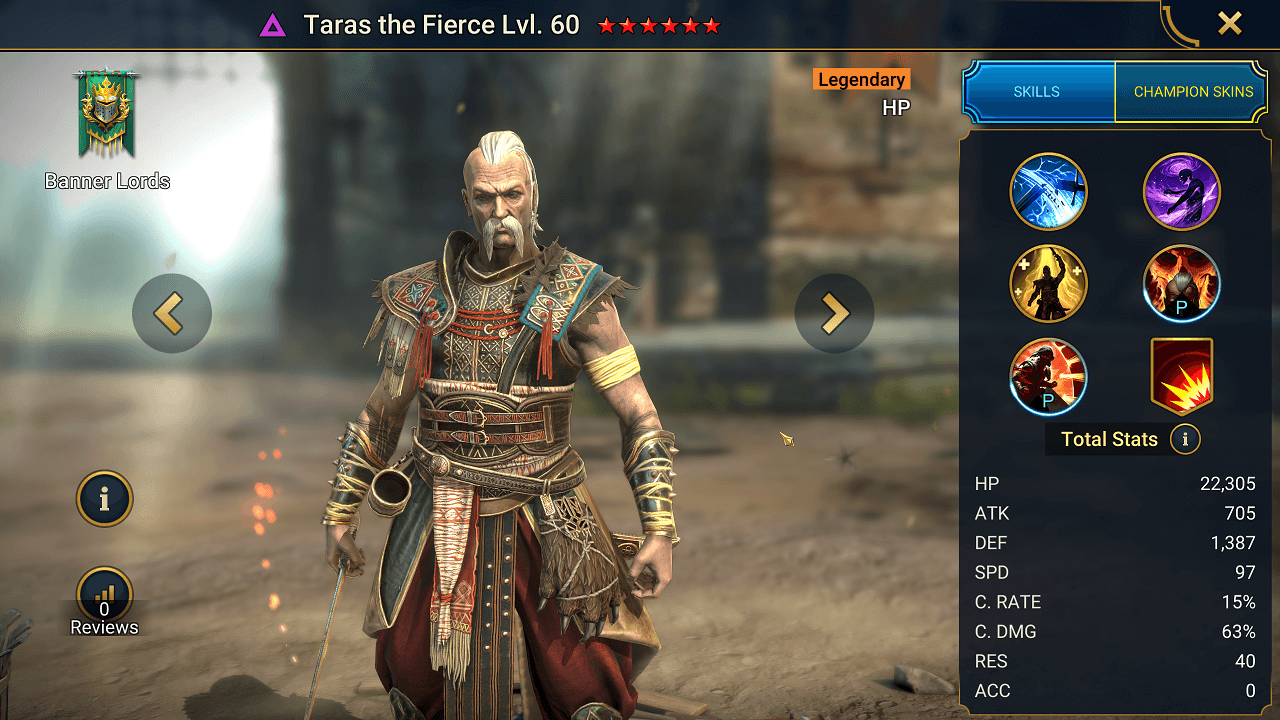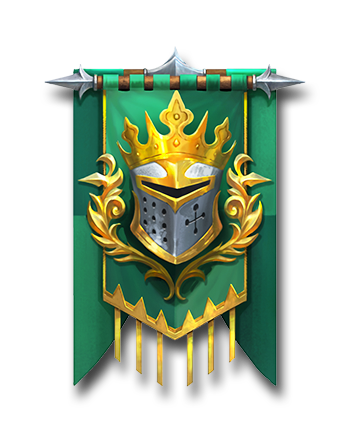 Champion Overall Rating:

5
Key Areas
| | |
| --- | --- |
| Arena Def: | 10 |
| Arena Atk: | 10 |
| Clan Boss: | 9 |
| Hydra: | 10 |
| Doom Tower: | 9 |
Dungeons
| | |
| --- | --- |
| Spider: | 9 |
| Fire Knight: | 9 |
| Dragon: | 9 |
| Ice Golem: | 9 |
| Iron Twins: | 1 |
Faction Wars
Decrease Attack:
Damage:
Crowd Control:
Turn Meter Control:
| | |
| --- | --- |
| Magma Dragon: | 6 |
| Frost Spider: | 6 |
| Nether Spider: | 8 |
| Scarab King: | 6 |
| | |
| --- | --- |
| Eternal Dragon: | 10 |
| Celestial Griffin: | 8 |
| Dreadhorn: | 1 |
| Dark Fae: | 2 |
Taras the Fierce
A legendary fighter with endless stamina, Taras joins the Banner Lords to rally them to victory.
Taras is an outstanding champion at frustrating and weakening your opponent whilst carrying a few punches himself. He has a unique partnership with Marichka the Unbreakable and has vowed to protect her retaliating against any enemy attacking her with his A2 which is a 100% 2 turn Stun debuff (that also deals twice the damage to high Attack enemies). His A1 places a Decrease ATK on a 50% chance but also increases all allies turn meters by 5% per critical hit (10% total per attack). Taras's most potent skill is his A3 which will increase in damage by 15% for each buff on your team potentially increasing damage by several 100% and also extends all the buffs by 1 turn. He also packs a powerful self heal, 5% for each buff he extends whilst also restoring his MAX HP (particularly useful against Hydra or the Sand Devil).
This kit alone ranks him as a strong legendary but his passives truly make him strong. His first gradually weakens attack based opponents up to a maximum of 50% in the arena or waves and 25% against bosses whilst also place a fear on any Orc, Ogryn, Undead Horde or Demonspawn champion before a sword is even raised. You'll want to defeat Taras quickly if you face him but his second passive counters this by reducing ALL skill damage (not debuffs!) by 50% a huge damage reduction. This does come at a cost to his MAX HP which will get decreased heavily but bring plenty of his buffs and his heal on the A3 will make him difficult to take down.
A very complex and packed champion but S tier for sure.
Shatter Upon Us
Attacks 1 enemy 2 times. Has a 40% chance of placing a 50% [Decrease ATK] debuff for 2 turns. Each critical hit fills the Turn Meters of all allies by 5%
Level 2: Damage +5%
Level 3: Damage +10%
Level 4: Damage +15%
Damage Rating
Multiplier: 0.12*B_HPOverall Grading*: Average
Hero's Intercession - 4 Turn Cooldown
Attacks 1 enemy. Places a [Stun] debuff for 2 turns. Deals double damage to enemies whose ATK is equal to or higher than this Champion's ATK.
[Passive Effect]
Whenever an enemy attacks Marichka the Unbreakable, attack that enemy using this skill.
Level 2: Damage +10%
Level 3: Damage +10%
Level 4: Damage +10%
Level 5: Cooldown -1
Damage Rating
Multiplier: 0.35*B_HP (0.7*B_HP when Doubled)Overall Grading*: Godlike
Constant Pressure - 5 Turn Cooldown
Attacks all enemies. Damage increases by 15% for each buff on allies. Then increases the duration of all ally buffs by 1 turn.
Heals this Champion by 5% for every buff that had its duration increased. Restores decreased MAX HP equal to the amount of any surplus heal.
Level 2: Damage +10%
Level 3: Damage +10%
Level 4: Cooldown -1
Damage Rating
Multiplier: 0.26*B_HPOverall Grading*: Godlike
Fierce Battler [P]
[Passive Effect]
When attached, decreased the enemy's ATK by 10% (up to 50%; 25% against Bosses). Occurs once per skill. ATK Reduction resets after each Round.
[Active Effect]
Places a [Fear] debuff on all enemies from the Orcs, Ogryn Tribes, Undead Hordes an Demonspawn Factions at the beginning of each Round. This debuff cannot be resisted.
Poise [P]
All incoming damage from skills is reduced by 50%.
When attacked, this Champion's MAX HP will be decreased by 25% of the attack's initial damage (before the damage reduction).
Aura
Increases Ally C.Rate in all Battles by 24%
Offense
Defense
Support
Offense
Defense
Support
Offense
Defense
Support
Blessings
We recommend you use these blessings for Taras the Fierce.
Team Blessings should be limited to 1 per team. For more information, please read our Team Blessings guide
here
.
Arena Defense

polymorph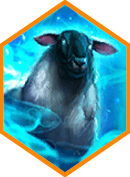 Late Game


brimstone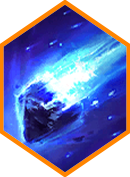 Team Blessing
Consider an alternative blessing if this already exists in your team.
Recommended PVE Artifact Sets
Guardian, Bolster, Perception, Savage, Lethal
Recommended PVP Artifact Sets
Stoneskin, Bolster, Guardian, Regen