Anchorite
Last Updated: October 24, 2022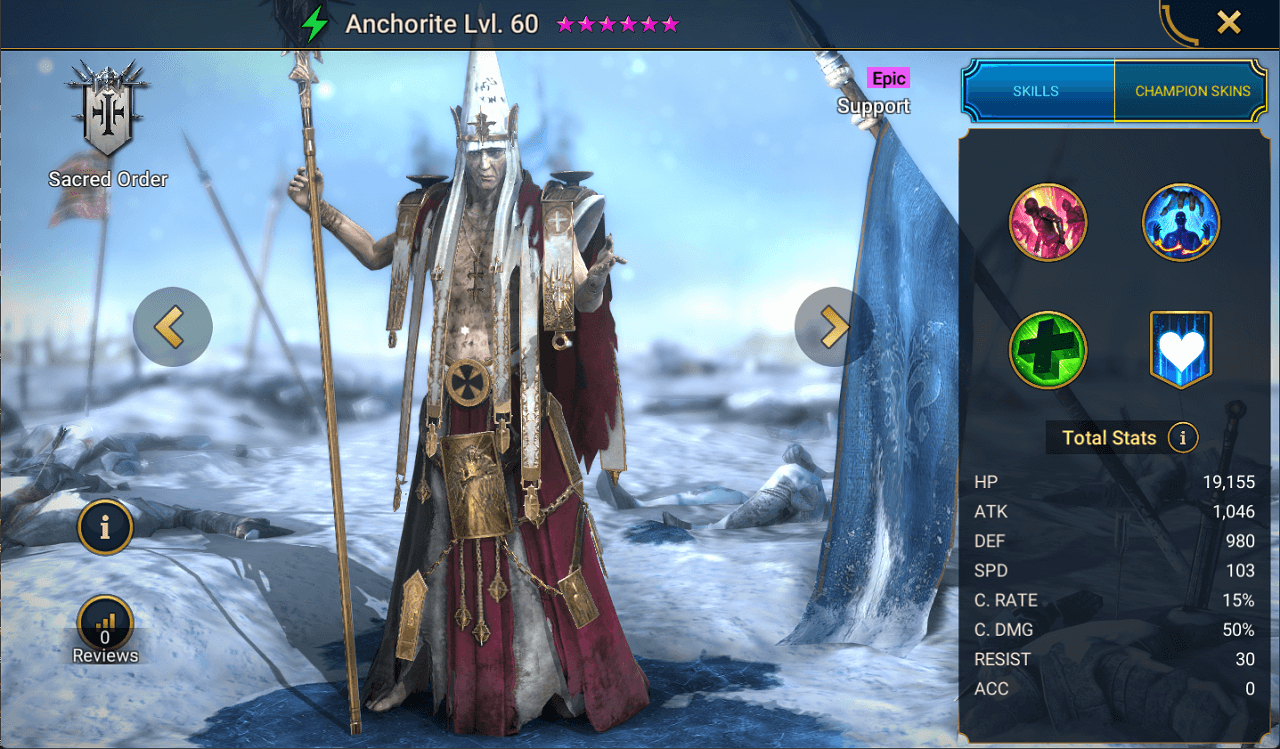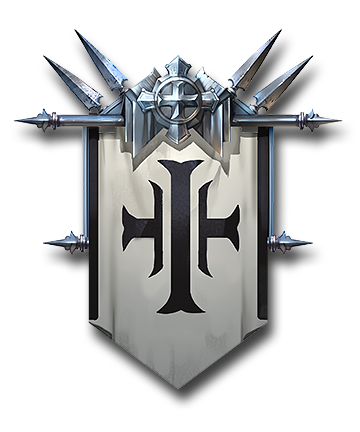 Champion Overall Rating:

3
Key Areas
| | |
| --- | --- |
| Arena Def: | 6 |
| Arena Atk: | 4 |
| Clan Boss: | 8 |
| Hydra: | 6 |
| Doom Tower: | 6 |
Dungeons
| | |
| --- | --- |
| Spider: | 6 |
| Fire Knight: | 5 |
| Dragon: | 6 |
| Ice Golem: | 4 |
| Iron Twins: | 6 |
Faction Wars
Damage:
Protection and Support:
| | |
| --- | --- |
| Magma Dragon: | 6 |
| Frost Spider: | 6 |
| Nether Spider: | 2 |
| Scarab King: | 4 |
| | |
| --- | --- |
| Eternal Dragon: | 6 |
| Celestial Griffin: | 4 |
| Dreadhorn: | 4 |
| Dark Fae: | 4 |
Anchorite
The old man, Anchorite, joins the Sacred Order as part of the Lonatharil Fusion event in August 2022.
His kit may not be flashy for an epic however he brings quite a rare skill in being able to extend all allies buffs by 1 turn on a 3 turn cooldown. This is crucial for many traditional and unkillable clan boss teams which run on a 2:1 or even 3:1 speed rotation. If you lack a Godseeker Aniri or some of the legendaries, then Anchorite might fill a gap in your roster!
In addition, Anchorite has an AoE A1 attack that also heals based on damage dealt (although do not expect significant healing as his damage is quite low) making him an ideal Stun Artifact Set candidate. He also has a full single target Heal on his A3, perfect for a Spider tank, and an Increase Critical Rate and Increase Critical Damage buff for all allies.
Whether you use him in your Clan Boss team or you need an early to mid game carry, Anchorite has a solid kit to help you progress in the game.
Warm Embrace
Attacks all enemies. Heals the ally with the lowest HP by 10% of the damage inflicted.
Level 2: Damage +5%
Level 3: Damage +10%
Level 4: Heal +5%
Level 5: Heal +10%
Damage Rating
Multiplier: 2.9*ATKOverall Grading*: Average
Prayer of Prowess - 5 Turn Cooldown
Removes 1 random debuff from all allies, then increases the duration of all ally buffs by 1 turn.
Level 2: Cooldown -1
Level 3: Cooldown -1
Sacred Trust - 5 Turn Cooldown
Fully heals the target ally, then places a 30% [Increase C.RATE] buff and a 30% [Increase C.DMG] buff on all allies for 2 turns.
Level 2: Cooldown -1
Aura
Increases Ally HP in all Battles by 25%
Offense
Defense
Support
Offense
Defense
Support
This champion is not recommended for use in PvP
Blessings
We recommend you use these blessings for Anchorite.
Team Blessings should be limited to 1 per team. For more information, please read our Team Blessings guide
here
.
Clan Boss


cruelty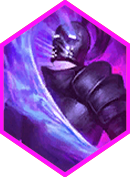 Team Blessing
Consider an alternative blessing if this already exists in your team.
Recommended PVE Artifact Sets
Speed, Stun, Regen, Reflex/Relentless (Non-CB)
Recommended PVP Artifact Sets