Astralith
Last Updated: April 9, 2022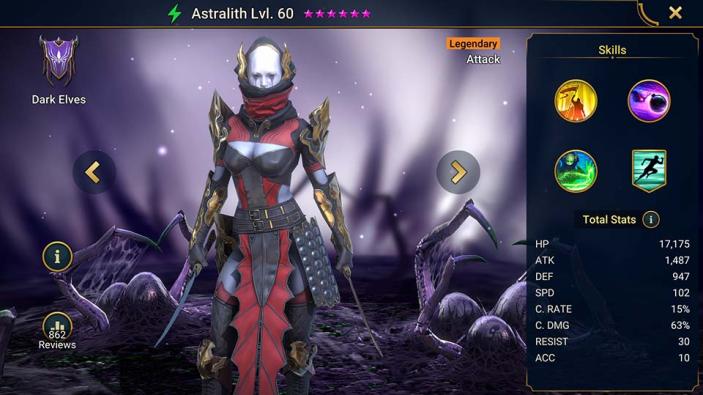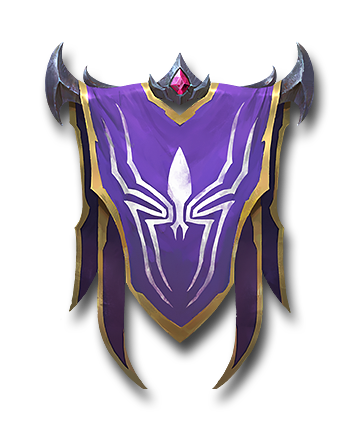 Champion Overall Rating:

3
Key Areas
| | |
| --- | --- |
| Arena Def: | 8 |
| Arena Atk: | 9 |
| Clan Boss: | 4 |
| Hydra: | 4 |
| Doom Tower: | 4 |
Dungeons
| | |
| --- | --- |
| Spider: | 5 |
| Fire Knight: | 4 |
| Dragon: | 6 |
| Ice Golem: | 6 |
| Iron Twins: | 2 |
Faction Wars
Damage:
Turn Meter Control:
| | |
| --- | --- |
| Magma Dragon: | 2 |
| Frost Spider: | 5 |
| Nether Spider: | 5 |
| Scarab King: | 5 |
| | |
| --- | --- |
| Eternal Dragon: | 4 |
| Celestial Griffin: | 4 |
| Dreadhorn: | 8 |
| Dark Fae: | 4 |
Astralith
Astralith witnessed the death of her parents at a young age. Her village was attacked and put to the torch killing many. She cried so hard that the tear trails were etched into her face. She needed revenge learning the art of explosives and went after the Raiders one by one.
Astralith is widely considered a low tier legendary in need of a buff. In the Dark Elves faction there are a lot of higher value Epics than Astralith.
She brings a strong Aura for the Arena and one of her best places is as a Anti Stoneskin champion bombing them to death with her skill that needs 0 accuracy to land. She can kill anyone with her bombs if built with high speed and high attack! This can also be paired with Vizier to spread those bombs to all enemies in the right situation.
She does not need any Accuracy in her build therefore you can push a more offensive build.
The same skill is also useful in specific teams against Bommal but this is niche and not to be used all the time.
Assault Leader [ATK]
Attacks 1 enemy. Fills the Turn Meter of a random ally by 15%. Fills the Turn Meter of all allies by a further 15% if this attack is critical.
Level: 2 Damage +5%
Level: 3 Damage +5%
Level: 4 Damage +5%
Level: 5 Damage +10%
Damage Rating
Multiplier: ATK*3.6Overall Grading*: Godlike
Heart Rot [ATK] - 5 Turn Cooldown
Attacks 1 enemy. Places 2 Bomb debuffs that detonate after 1 turns. This debuff cannot be resisted.
Level: 2 Damage +5%
Level: 3 Damage +10%
Level: 4 Damage +10%
Level: 5 Cooldown -1
Damage Rating
Multiplier: ATK*5.6Overall Grading*: Strong
Judgement - 7 Turn Cooldown
[Active Effect] Exchanges remaining HP levels with a target enemy, then attacks with the default skill. Cannot be used on a Boss.
[Passive Effect] Gains an Extra Turn and decreases the cooldown of this Skill by 3 turns if this champion's HP drops below 20% when attacked.
Level: 2 Cooldown -1
Level: 3 Cooldown -1
(Aura)
Increases Ally SPD in the Arena by 28%
Offense
Defense
Support
Offense
Defense
Support
Blessings
We recommend you use these blessings for Astralith.
Team Blessings should be limited to 1 per team. For more information, please read our Team Blessings guide
here
.
Debuffer
lethal dose
Late Game


brimstone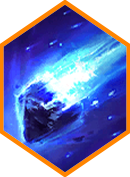 Team Blessing
Consider an alternative blessing if this already exists in your team.
Recommended PVE Artifact Sets
Speed, Retaliation, Avenging, Cruel
Recommended PVP Artifact Sets
Savage, Cruel, Speed, Crit Damage, Retaliation, Avenging