Maranix
Last Updated: May 5, 2023
Maranix Overview
Maranix slices her way into the Dark Elves Faction as part of the October 2022 Fusion Event.
Hex debuff has been making its way into more champion kits over the past 12 months and Maranix requires Hex to really make the best of her kit. She is designed to be an all out nuker with her A3 being her big damaging ability. If targets are under hex she will ignore Unkillable (therefore swift parry and Leorius the Proud) and Shield (Bolster sets!) and if she kills an enemy she gains an unkillable buff. Additionally she has a second AoE hit that will allow you to place Decrease Defence and Hex on all enemies.
The biggest issue with Maranix will be setting her up and ensuring you can keep the Hex debuff out there. Unfortunately, there are now many mechanics that stop you from placing debuffs ranging from a traditional Immunity Artifact set now to blessings such as Polymorph. She will also require accuracy to provide her own Hex debuff which is not suitable for arena builds meaning you will 100% be forced into bringing another Hex Champion. This is a common trend we see with Ruel having significantly more damage than almost any nuker but sees very little Arena playtime. She is also a bad affinity for Arena with many strong champions being Spirit such as Duchess Lilitu which will lead to weak hits. For high end, its unlikely to make the cut and for anything outside of Platinum, you would be able to achieve more consistent outcomes with a nuker that requires less setup (for example, Genbo and Magnarr are excellent epic options).
Overall her kit seems powerful but very difficult to setup. There may be some usage in Hydra (considering the Mischief head) but it is unlikely you would select Maranix over Mithrala or Ruel in that setting.
Maranix PVE Masteries
Offense






















Defense






















Support






















Maranix PVP Masteries
Offense






















Defense






















Support






















Maranix Blessings
We recommend you use these blessings for Maranix.
Team Blessings should be limited to 1 per team. For more information, please read our Team Blessings guide
here
.
Damage Dealer

lightning cage
Hydra Clan Boss


cruelty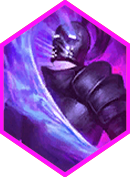 Team Blessing
Consider an alternative blessing if this already exists in your team.
Maranix Gear Recommendations
Recommended PVE Artifact Sets
Savage, Lethal, Cruel, Perception, Speed
Recommended PVP Artifact Sets
Stoneskin, Savage, Lethal