Raid Shadow Legends Christmas Fusion

Raid Shadow Legends Christmas Fusion


The Christmas spirit is in full swing and Plarium are getting on board with the latest fusion event for the holiday period. We are here to help you with all the information about the latest Raid: Shadow Legends fusion and what you will need to make sure you can complete the events as they drop.

In order to fuse this chilling Champion, you will need 4 epic Champions: Balthus Drauglord, Alaric the Hooded, Gerhard the Stone and Rugnor Goldgleam. These champions will be available through special events and tournaments.
With this fusion 3 of the 4 rare champions for each epic are the same. Only the fourth Champion, the Void Rare will be unique to each Epic. This means that we will need multiple copies of the 3 rare champions to fuse each epic.

Pyxniel the Christmas Fusion!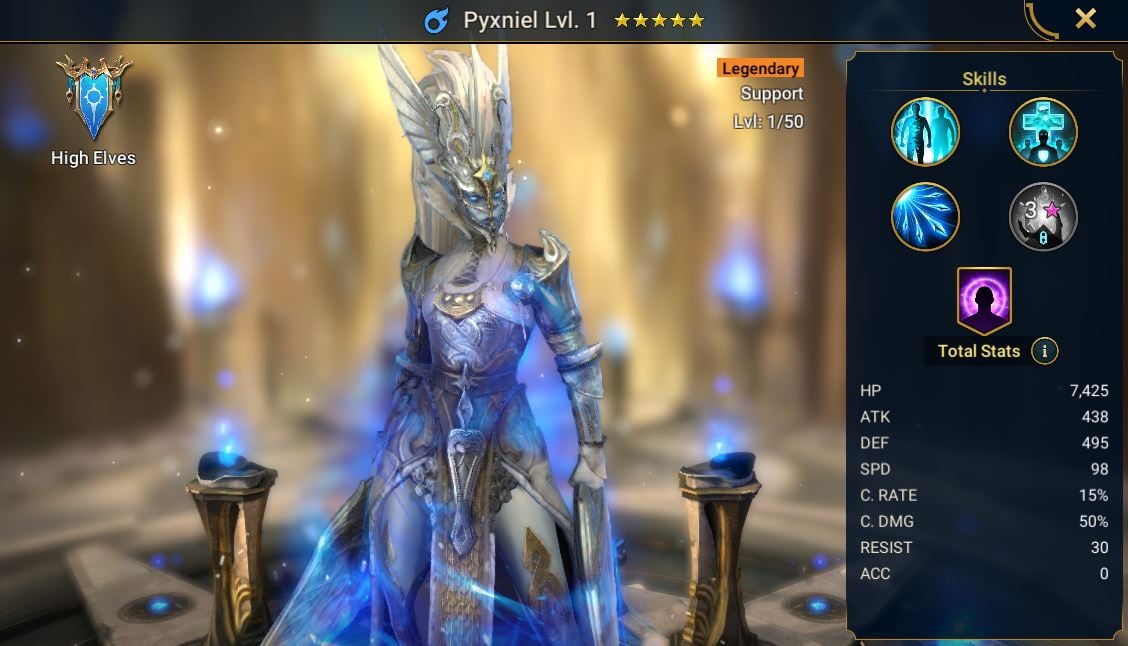 Pyxniel is a direct counter to Sorath the Ice Spider. She also has good utility for niche Arena matchups such as Tormin, Gurgoh or any freeze champions. You will also get good value from Pyxniel against the Ice Golem.
We would always recommend that you go for fusion champions if you have the resources as anything can change with champions in the future, however, currently, overall we feel that she is a good legendary but not one of the top legendaries.

Event Calendar:
14th – 17th December – Spider Tournament
14th – 20th December – Dungeon Divers Event
16th- 20th December – Artifact Enhancement
18th – 21st December – Fire Knight Tournament
18th – 21st December – Classic Arena Takedown
18th – 21st December – Champion Chase Tournament
18th – 25th December – Champion Training Event
21st – 24th December – Dragon Tournament
22nd – 27th December – Dungeon Divers Event
24th – 28th December – Artifact Enhancement
25th – 28th December – Classic Arena Takedown
25th – 28th December – Ice Golem Tournament
25th – 29th December – Summon Rush

Christmas Fusion Guide:
Day 1 – Day 3 (14/12/2020-17/12/2020)
What you need to do today to complete the Christmas fusion.
The active events today are:
Spider Tournament (14th-17th December):
Pigsticker – Requirement: 1800 Points
Dungeon Divers Event (14th – 20th December):
Ruffstone – Requirement: 1500 Points
Geargrinder – Requirement: 3850 Points
Since both of these events gain points simultaneously, you should invest all of your energy into Spider 20 (if possible).
The minimum amount of points for a successful spider 20 run is 16 points for the Tournament and 10 points for Dungeon Divers.
The total Spider tournament requirement is 113 runs, if you do not get any ancient shards during these runs, which means you should aim to do a minimum of 38 runs a day for the 3 day tournament period. However, to secure the Dungeon Divers event, you need to accumulate 650 points every day, which is at least 65 runs of a level 20 dungeon.
Since day 1-3 is just these two events, you should be putting ALL energy into them, assuring that you hit the requirements for the daily goals. By doing so you will be able to save a large amount of silver for Day 3's Artifact Enhancement event, which you will need around 15 mil Silver for.

Day 3 of the Fusion brings us the Artifact Enhancement Event!
To obtain the rare from today's event, you need to earn 2,000 points in the artifact enhancement event, this one is nice and easy and there are 2 great ways to do it quickly depending on how much silver you have and how prepared you were for the event.



To complete the event with 2000 points it will take 6x 6* items to level 16, Which will take a large amount of silver, usually, an event like this will consume anywhere between 5-15 million silver.

1. If you pre-rolled your gear to level 7/11/15 before the event, you can go ahead and burn through your silver taking these up by 1 level each to gain quick easy points.

2. The other really good option for these events, is doing a good old gear clearout, roll things that you might want to keep up to see how the stats play out, sell things that you won't want to keep, a great guide for this is: https://youtu.be/qEEPiLV9rak

Do what Hellhades does best, and burn that silver! Happy Raiding!

Day 5 Fusion Update:
New Events:
Champion Chase Tournaments
Classic Arena Takedown
Fire Knight Tournament
Champion Training Event
Today we get quite a large amount of events, the biggest difficulty here will be both maximising energy use between Champion training, and Fire Knight, but also the Champion Chase tournament, luckily this does coincide with 2x Sacred Shards.
The Arena Tournament is very easy to complete, just use your arena battles as per usual, and you will passively collect this rare at 280 points.
Champion Chase Event:
1150 required for the rare and 2500 for the epic champion
For this you will need to pull as many shards as you need, to at least get the rare, you can also do this with mystery shards for 1 point per shard, if you don't have other shards to use during the event, but remember – champions from the market and campaign will also count towards these points, which can tie in nicely with Champion Training.
Champion Training Event:
1775 – 4150 – 7300 points for the required rares from this event, and 12750 points for the Spirit affinity epic (Balthus Drauglord) The point requirements here are pretty hard, the most important thing is making sure that you can get the 3 rares from the event, rank up as much as you can during the event.
Fire Knight Tournament:
Just like the spider tournament, we need 1800 points for the Fire Knight rare, this will take around 1800 energy in level 20, you should prioritise this while finishing the current Dungeon Divers event, and finish it as quickly as possible, before farming more Champ Training.

21st December Fusion Update:
New Events: Dragon Tournament
Just as previous dungeon events, for the next 3 days you will be spending your time in Dragon's Lair! The point requirement for this one is slightly higher, at 2250 for the Rare Champion, Panthera – which is roughly 2250 energy IF you are doing stage 20, of course this will vary depending on the stage you are farming.
If you're lucky enough to have a champion who can solo dragon WITH food, such as Bad-el-Kazar, maybe take this time to level up some of the fusion champions for extra points in the champion training event!
Best of luck, 4 days till Christmas! And may the speed roll RNG gods be with you!

22/12/2020
Dungeon Divers Event 2

Today's event is the second Dungeon Divers, points will be earnt by collecting artifacts, from dungeons or campaign –  the point requirement for the 3rd Tigersoul available is 2250 points, which is a maximum of 225 level 20 Dungeon runs, both the Champion Training Event and Dragon Tournament are still active, so you should utilize your energy in either campaign or Dragon to maximize your points in all areas.

For some people who managed to get the epic from the Champion Chase Tournament this may be the last event they need to do in order to fuse Pyxniel, unless you are specifically going for a dupe of the epic.


Christmas Eve Fusion Update:

New Event:
Artifact Enhancement Event

To obtain the rare, Pigsticker from today's event, you need to earn 1500 points in the artifact enhancement event, this one is nice and easy and there are 2 great ways to do it quickly depending on how much silver you have and how prepared you were for the event, as we previously mentioned in day 3s update. 
As always, this will drain your silver, so happy rolling, may RNG be with you!